You've probably made an encounter with that small, rumbling vehicle scooting past your driveway with stickers and shiny sparkles driven by someone under 9. 
Or perhaps, your little ones are even their proud owners. But have you seen ones that are specifically modified to suit all your children's imagination and fun-loving whims perfectly? 
If you're still of the opinion that customizing Power Wheels are feats only achievable by experts at toy and mechanical workshops, it is time to break the stigma. 
With the help of easy-to-learn kits and countless curious parents' tutorials, modifying your children's ride-on vehicles is no longer an unobtainable dream. 
Think you're up for the challenge? Don't worry. 
We're here to help you start your new venture! What can you do to make your children's old classic once again a new favorite? 
Getting started on customizing 
Modifications can take a variety of forms. 
Whether you are simply looking for basic cosmetic make-overs, or full engine modifications, customizing your child's Power Wheels will guarantee you a fun summer project on the go and one blissfully happy six-year-old. 
Nevertheless, before we begin, it is crucial to keep several things in mind.
Firstly, customizing your own Power Wheels will likely render your warranty, should yours still be eligible, invalid. 
Toy shops are not keen on rescue, especially once you have decided to replace your engine or battery. 
Therefore, make sure that you are fully committed before tinkering with the tools, as this project cannot be abandoned halfway. 
Secondly, although some modifications only involve simple practice, more complex ones require higher caution and skills. Therefore, we advise you to always be on alert and carry out the project at your own risk. 
As a rule of thumb, it never hurts to check every modification step twice before letting your kids run around in their newly modified vehicle!
Concurrently, there are some simple rules to pay attention to when starting your custom job. 
Much like our real cars, durability comes from quality. Excellent motors, batteries, and gears might cost extra. Still, they likewise prevent unwanted malfunctions and will let your vehicle last until your child is set to leave their childhood toys behind into their teenage years. 
Moreover, a successful custom job depends as much on the skill as on the correct basics: It is crucial to start with ride-on vehicles that adapt well to modifications. 
For instance, avoid those that won't allow further customization or those too small to add more power without endangering the safety limit. 
Luckily, the research has been done for you: 12-volts Power Wheels and Kid Trax have been deemed the most suitable for custom jobs. 
Although other types are certainly up for trials, please stay away from cars with low-quality gearboxes or set-ups as they are usually much trickier to maneuver and are more trouble than they're worth! 
Lastly, a standard error in customizing is the misconception that any combination goes. 
However, matching batteries, gears, transmissions, and others is far more crucial than simplicity or aesthetic state. 
Just as in your actual car, making sure that all the spare parts of the vehicle work together is fundamental to ensure safety and an improved riding experience. 
Best Ways to Customize Your Power Wheels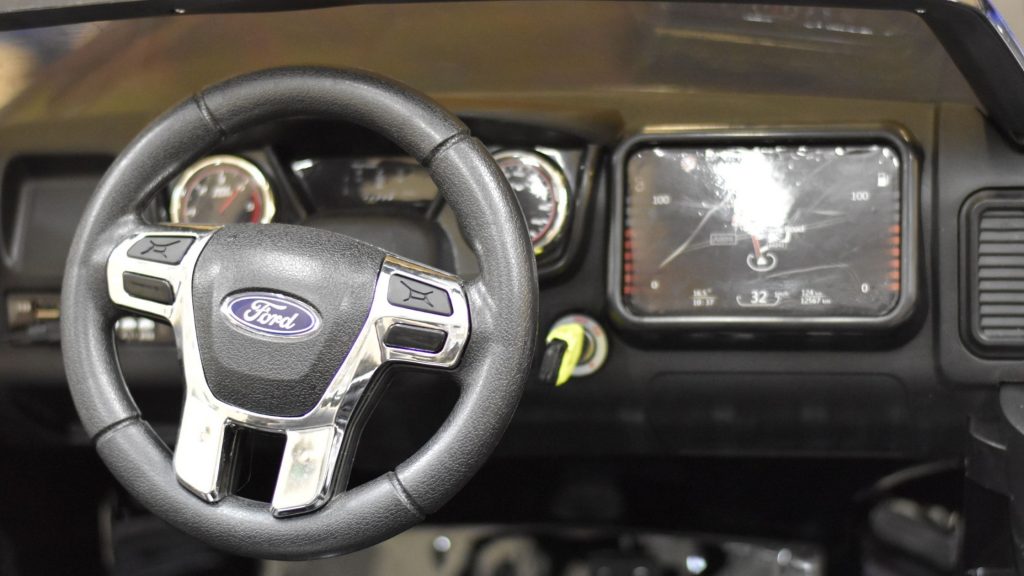 Can't wait to have a go but don't know where to start? Don't worry! 
Here are our top 10 DIY recommendations to customize your Power Wheels:
Exterior Paint Job 
Let's start with the most straightforward modification. 
Repainting your Power Wheels might seem like an old trick, but it is a definite classic in giving the vehicle a new look. 
The best thing about it? Your children get to choose their favorite color and to join in on the fun! 
There are many ways to start your painting job, although using spray paint is the easiest way to go. 
For instance, it is recommended to tape the interior of your Power Wheels with trash bags or old newspapers to leave a clean paint line for the spraying spree. 
Paint types are likewise important. Most Power Wheels' exteriors are made of plastic, but double-check the paint that suits yours the most!
Battery Modifications
Another favorite power-boosting modification is the simple battery customization. 
As most ride-on vehicles these days are equipped with 12-Volts, upgrading the battery into 18-Volts will allow you to increase the ride's power and speed without endangering the motors and gears. 
Battery choice is crucial in ensuring durability, specifically as the correct battery needs to match the right motor. If you are using a cheaper aftermarket model battery, ensure that an inline fuse is installed to protect your vehicle against power surges. 
It can be done by replacing the previous battery connectors with F2 connectors sold at auto parts stores. 
A dangerous hazard that you need to pay attention to is to avoid using a lawnmower/motorcycle/automotive battery. 
They are typically constructed with liquid acid that can boil and explode and their tendency to overheat the motors. 
The safest battery recommended is the SLA, as it gives you the right amount of torque and not just an increase in speed.
Electronic Speed Controller
Installing an Electronic Speed Controller (ESC) on your Power Wheels is a great mechanical addition to deliver a more realistic driving experience.
It is a more complicated mechanical customization for the tech-aficionados. 
An ESC is an electronic circuit that regulates the motor speed by directing your battery to give the wheels a precise amount of power. 
Not only will this give you perfect control for the little vehicle, installing an ESC can be a fun way to learn a little extra electrical engineering skill.
Should you wish to go on the easy path, you can purchase a universal ESC kit commonly sold on electronic appliances stores (they cost around $100 – $150). 
If you want to go for the extra challenge, you can also build your own, for instance from a Razor scooter variable speed controller and its parts. 
Traction
Tractions are another crucial part that you need to pay attention to in order to give your vehicle the best mechanical upgrade. 
Traction modification has been one of the most popular custom projects for improving the Power Wheels' driving experience. Although the standard traction belts attached to the original vehicles work perfectly fine on concrete and pavement, they are not the best suited to cater to your children's trickier off-road adventures. 
Upgrading your traction to better tackle grass, rocks, or even sand will not only enhance your Power Wheels' safety but also allow your children to take advantage of their new, smoother, easily maneuverable ride onto their next grand adventure at the backyard lawn. 
Sound System
Everyone has dreamed of blasting off their favorite song from the stereo of their favorite ride, and your six-year-old is not an exception. 
So why not make their dreams come true by installing an awesome stereo in their old Power Wheels? 
With a simple wiring job and the right speakers, you can make your kid feels like the boss of the block! 
For instance, the people at Crutchfield recommended the Polk Audio DB651s 6.5″ speakers as the perfect start-off, given their shallow mount and marine-rated quality. 
You can also find out which stereos will fit your Power Wheels best by simply entering your model information in this Outfit My Car tool. 
Now when you hear Baby Shark making its tour around the neighborhood, you'll know where to spot your little one! 
Engine Modification
If you are still opting for extra power after customizing your battery, the next step of the game is to replace your ride-on motor. 
Most Power Wheels, especially the old models, are equipped with a lower-draw motor. You can go for a 12-Volt on the first try or directly for a 24-Volt if you want to go all the way. 
Nevertheless, modifying your engine requires more precaution than other customization jobs because they are very dependent on its plastic frame. 
Therefore, fitting an engine that is too powerful might imbalance its weight and rip apart its body. 
If you're looking to venture into this challenge for your next project, make sure to research a new motor that fits the minimum amount of modification and mount it firmly to prevent the whole vehicle from tearing apart. 
Led Installation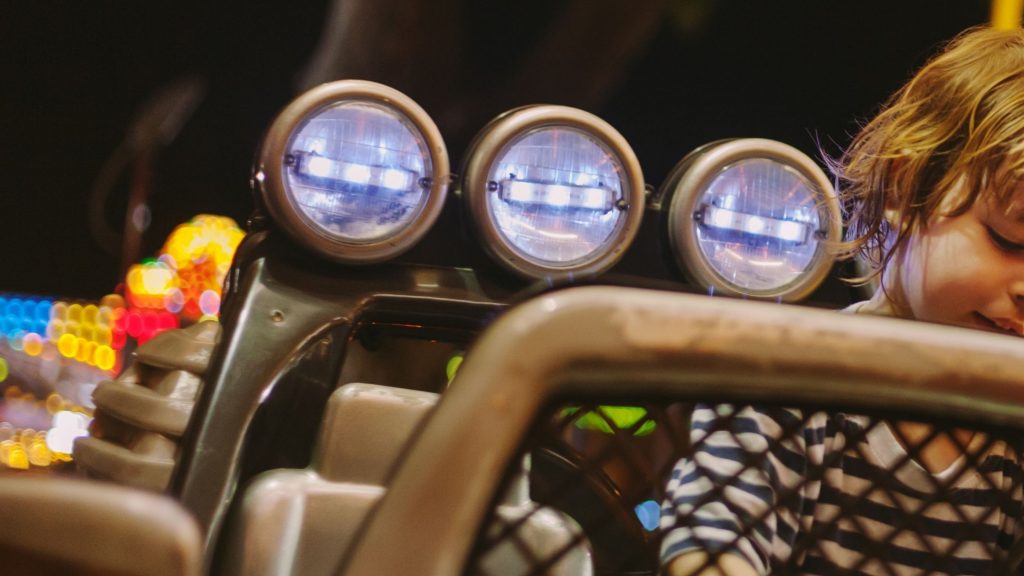 Nothing makes your children's eyes gleam more than their shining new ride, especially when the said ride is literally glowing from its custom-installed brand-new LED lights. 
Installing LED headlights and taillights is not just an easy way to up the ante on the coolest Power Wheels of the block competition. They are also a project that is friendly on the budget. 
All you need for the job is LED line lights, batteries, a DC/DC converter regulator, and an instruction manual for inspiration on where to glow up your wheels. 
If your Power Wheels runs over 12-Volt, a Voltage step-down converter is usually necessary. Since LED is not running on a high power source, an upgrade on the volts is generally unnecessary unless you are specifically looking to go the extra mile with the lighting. 
After that, the job itself is pretty straightforward: let your imagination runs wild in designing the perfect LED lighting for your kid's favorite car. 
It will require you to drill through the plastic body and perform some wiring tasks most of the time. Don't forget to include the power switch so your children can have complete control in turning them on and off from inside the car. 
As long as the distribution block allows you, you can wire as many LEDs as your heart desires. 
Remember, there is no such thing as too much glow!
Lifting Your Power Wheels
Another recommended modification to improve the drivability of your ride-on vehicle is to increase its body height to gain higher clearance from the ground. 
It is especially beneficial if you live in a hilly neighborhood and own a Jeep or truck ride-on vehicle. 
By buying up old Power Wheels and utilizing their parts to add an extra 5 or 6 inches to your very own, you will get a new, elevated vehicle for a low price within one or two hours. 
A fun exercise in learning about mechanics and modifications, this challenge can be taken up by any curious parent with the help of a detailed manual.  
Moreover, as disposed of Power Wheels whose owners have outgrown them are not uncommon, it would take no time to find an identical model to your own vehicle at yard sales, online, or flea markets. 
Ready, set, lift away!
Remote-Control
If your little one has a hard time deciding between those new remote-controlled toy cars and their very own ride-on vehicle, this modification is the perfect solution for their dilemma. 
With a few technical skills, you can also modify your old Power Wheels into a remotely controlled 12-Volt toy while still retaining its driving capabilities. 
For this, you would need a large servo, battery holders, light switches, screws, and a FlySky transmitter and receiver. 
Check out this manual for an easy how-to guideline! 
Not only will this give your kid the best of both worlds for their summer toy wish, but you also get to watch over your inexperienced children while they have a go at some new maneuvers and occasionally scoop in to save the day!
Adapting Your Power Wheels for Children With Special Needs
It is crucial to remember that while all children have the right to play, some might find it a bit more complicated than others to adapt to certain toys. 
With the help of expert researchers, customizing your Power Wheels to bring fun and affordable mobility to children with disabilities is no longer a pipe dream. 
The modifications can range from replacing the steering wheel with a joystick controlling two motors to changing the front wheels with 5″ casters. 
You can also add some PVC pipes to help support the children while "driving." 
It is especially crucial for children under the age of three who have no access to wheelchairs on the market to allow them to move independently. 
Ride-on vehicles can therefore be a fundamental replacement for them to still explore their playing years. 
If you need help for more elaborate modifications, professionals at the University of Delaware have launched the Go Baby Go project to help customize ride-on cars and make them more accessible for all children with any special needs. 
Now everybody can join in on the fun!
Conclusion
Customizing your children's favorite Power Wheels is an exciting summer project that will surely win your way to their hearts. 
However, we always urge you to thread on the side of caution: faster and more powerful are not always better. 
Make sure that your little ones are ready for their new modified toy, although extra safety features and decors can harm no one. 
With this in mind, we only have one last message: get your tools ready, tinker away, and await that 'Best Parent' trophy by the end of the month!