Power Wheels are miniature vehicles for young children that resemble trucks, cars, and motorbikes and work on battery packs to drive around. 
Just like other vehicles, Power Wheels need traction to move around effectively. You will notice that Power Wheels come with plastic tires that tend to spin on grass and mud and can be irritating when a child can't seem to move either back or forward due to lack of traction. 
Moreover, the plastic loses its grip fast, but installing Power Wheels rubber tires is a way to solve the problem. 
This article serves as a buying guide and lists some of the best rubber tires for Power Wheels and a little bit of 'how to' tips and tricks.
Can You Get Rubber Tires for Power Wheels?
Yes! You can upgrade your kids' Power Wheels by adding a layer of rubber tires on them. 
There are hundreds of Power Wheels rubber tires on the market, and choosing your preferred one might be the only tricky part of the process.
Things to Consider When Buying Rubber Tires for Power Wheels
People purchase rubber tires for Power Wheels primarily because of their enduring quality and stylish design. 
Rubber tires give more traction than the prior-installed plastic tires, making movement more straightforward and balanced. 
Rubber tires are also compatible with several outdoor surfaces, making them safe for children, especially in mud terrain where plastic tires tend to slip. 
And yes, rubber tires won't be as noisy as plastic wheels on hard surfaces. 
When buying rubber tires for Power Wheels, here are the three primary factors you should consider. 
The Rubber Material
High-quality rubber tires usually last long. 
Therefore, when making your purchase, look out for air-stem features that allow for inflation and deflation of the tires. 
The rubber should be thick too, to make sure it lasts long.
Design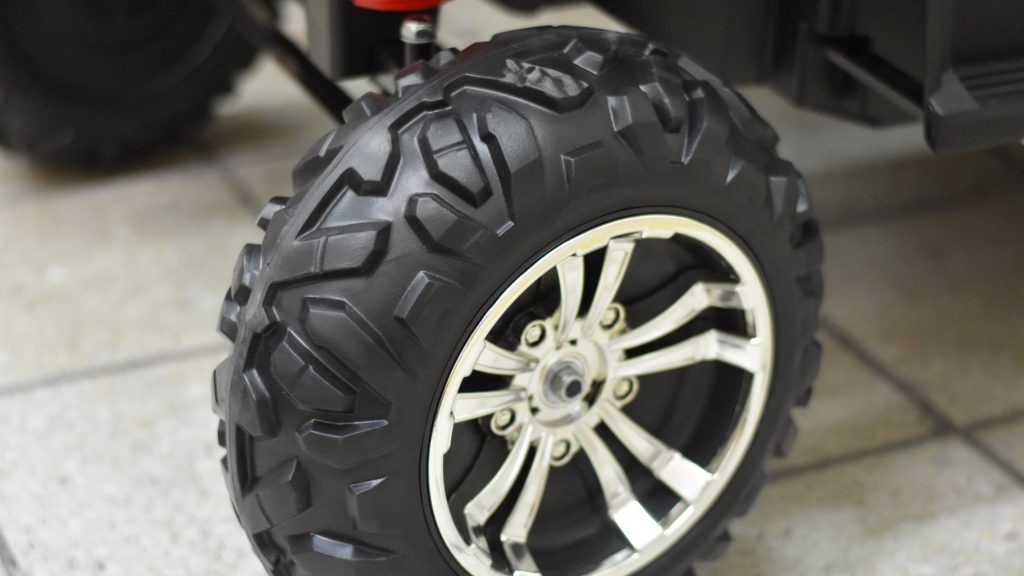 The overall design of the rubber tire will ultimately affect the Power Wheels' traction. 
Just like in off-roading trucks, look for hard-foam tires or air-filled tires that have a sporty look. The sporty/rugged design is the best for traction, even on the smoothest of surfaces. 
Moreover, a tough rubber tire stabilizes your kid's truck in bumpy terrain. 
Application
You will need a rubber tire that fits perfectly into your child's Power Wheels, so you must be careful about the size. 
The rubber has to be easy to assemble and mount to ease future adjustments or tweaks.
Now, let's look at the closest alternative to Power Wheels rubber tires – the Power Wheels spray rubber. 
Power Wheels Spray Rubber
Someone might decide not to invest in the 'real' rubber tires and opt for spray rubber for one reason or the other. 
It could be due to the relatively higher cost of obtaining a new set of tires, or any other reason, like the kids like playing with their toys much and wearing out new tires fast. 
That is where spray rubber comes in handy. 
Spray rubber is a spray (flex seal spray) that tends to form a rubber coating where it has been applied/sprayed on an object. 
The thickness you intend to have on your power wheels depends on how intense you spray its wheels. 
Almost similar to the Flex Seal Spray is the Flex Seal Liquid. Both products are designed to give you a similar result; only the application modes vary here. 
The liquid is applied to the wheels of your kid's toy by brushes.
Here's how to perform both applications.
Flex Seal Spray
Cover the wheel, rims, and axle using masking tape and paper to prevent excess rubber spray from messing with other vehicle parts.
Lay the vehicle upside down and spray the exposed portion of the tire. Apply the spray until you have attained your desired thickness. 
Leave the tire for around eight hours for the spray seal to dry. 
If you remove the tires from the toy, it is advisable first to spray one-half of the wheels, then the other. 
After the coat is completely dry, you can apply a second coat and a third one, too, following the same procedure. 
After you're done with the application, you can scrape off any excess rubber using a sharp object. 
Flex Seal Liquid
Before you apply the flex seal liquid, it is essential to note that it is messier than the spray, and, therefore, you need to have a fully covered workspace to ensure that you catch any excessive/accidental spills. 
Moreover, you need several brushes, as each coat needs some brushwork. The brushes should be small enough to go through the car's tire grooves. 
Turn the toy car upside down and cover the axle, wheel, and rim. 
Apply the top-exposed half with a coat of your seal liquid. 
Wait for at least eight hours for the first coat to dry, then apply the second half of the tire.
Once the whole wheel is dry, apply a second coat and a third one, if you wish.
Once all tires are dry, scrape off the excess rubber with a knife or sharp object. 
Best Power Wheels Rubber Tires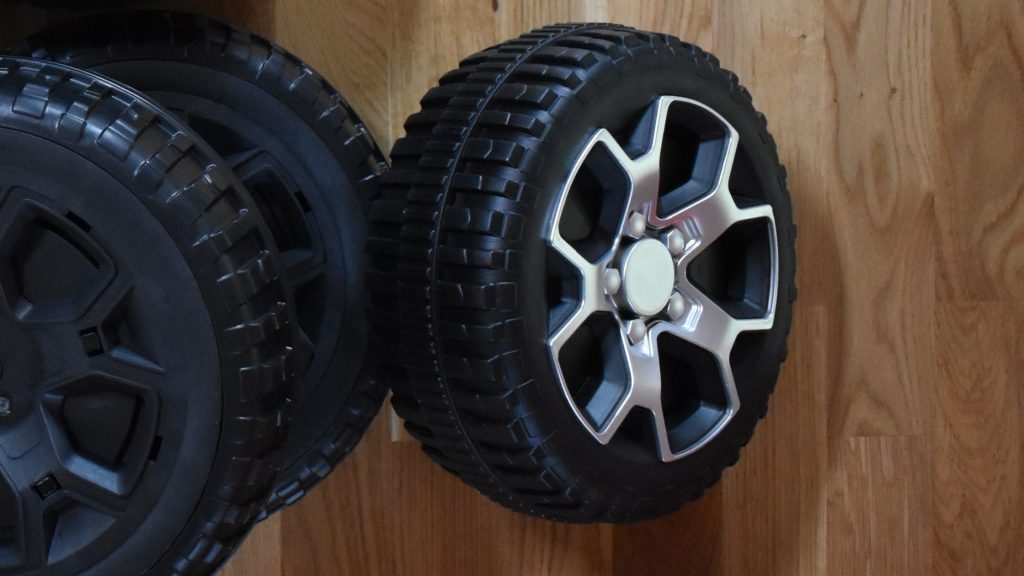 Injora RC Rubber Tires
BQLZR Rubber Tires
Champion Never-Flat Rubber Tires
Hobbypark 4-pack 120mm Rubber Tires
Remember to always check on the tire specifications before purchasing to ensure they conform to the power wheel specifications, mainly the size.
Adding traction to your kid's ride increases the stability and durability of the tire. Moreover, the child will ride at high speeds, although it might not be safe for them. 
As a result, obtaining Power Wheels rubber tires upgrade is an increasingly popular practice due to the numerous advantages. After the upgrade, your kid can enjoy riding around without slipping or sliding on grass and mud and feel more confident as there will be minimal chances of tipping over. 
However, for optimal safety, you should invest in a seatbelt upgrade (probably a 4-harness seatbelt) and including a brake pedal, if there is none. 
Benefits and Drawbacks of Rubber Tires
Rubber tires are critical in allowing the Power Wheels to operate effectively. Rubber tires have a wide range of uses, and the need for this product has risen over time as more Power Wheels are introduced every day.
Rubber tires act as contact points for the Power Wheels and the road. 


Rubber tires give the wheels a robust and flexible casing, providing a gripping surface for traction and acting as a cushion for the wheels during any movement.


Maintain the grip needed.


Less expensive and longer lifespan.


Regardless of the temperature, the power wheels must move. If they stop, so does the child's enjoyment. They will have to go across damp areas on rainy days. 
On the wet and slick roads, the power wills will run. Rubber tires make it simpler to maintain traction and maintain stability on slippery roadways. 
No matter how bumpy or rough the terrain is, the rubber material can keep the grip and sustain it.
The synthesis employed in rubber tires offers the ability to withstand the impacts of heat, extending the life of the Power Wheels by years.


Ability to carry a heavy load


Rubber tires can handle big weights. They allow the vehicle to bear greater weight without putting too much strain on it. 


We've all seen situations where our children gain weight, and we're afraid they'll break their Power Wheels. In these cases, the rubber wheels can withstand the load and even keep road grip without being too harsh on the roads. 


Rubber also reduces road noise.
On the other hand, rubber tires have few drawbacks, the most significant of which being tire wear. The friction of the pavement wears down the rubber of the tires, making them rather slippery.
Aftermarket Rubber Wheels
Although some Power Wheels come with rubber wheels, aftermarket rubber wheels designed particularly for power wheels are also available. 
One of the most common modifications to Power Wheels is changing the wheels through the aftermarket. Non-factory wheels are frequently more hassle than they're worth. 
However, this is typically due to people purchasing them for the wrong reasons. Aftermarket wheels, when used correctly, may be helpful.