Does your kid want his/her power wheels vehicles to run faster than their friend's toy vehicles?
Some parents have complained that their kids have asked for better-performing power wheels, even after using their new toy vehicles for only a few weeks.
Unfortunately, buying a new one after every few years can be costly. Luckily, there are modifications that you can do to improve the toy vehicle's performance.
Upgrading a Power Wheels Vehicle
The main rule in the motorsport world is the more cash you spend, the faster your car will be.
This is no different with power wheels. After all, developing and producing high-quality gears, motors and batteries can be quite costly.
But, as parents, we need to purchase high-quality toys that our kids can outgrow. This means getting a power wheels vehicle that can easily accommodate modifications.
Unfortunately, not all power wheels can take upgrades well. Currently, the market has tons of power wheels with cheap and weak chassis with electronics and gearboxes that can't support more power without major modifications.
Therefore, if you're getting your 5-year old 12V power wheels, make sure you get a model that can accommodate extra power.
After all, you will have to upgrade it as your child grows. And if you made the right call from the start, then upgrading it can be quite easy and fun.
Plus, with the many slick tires, custom-fabricated axles, powerful motors, and bigger batteries, the upgrades will only be limited by your goals or your child's age.
How to Soup up Your Kid's Power Wheels?
Whether you're after a high-performance rebuild or power upgrade, there are four main steps you can take to improve the speed of your child's toy vehicle.
And after you have finished working on the following steps, you can upgrade the gearbox, that is, if you haven't done it already.
To upgrade the power wheels, you should do the following:
Step 1: Battery
The battery is the most crucial part of this toy. And if it functions properly, then the toy car will function as well. If the toy's battery works slowly, then the speed of the toy vehicle will be lower.
So the best solution for this problem is modifying the toy's battery, which is actually the easiest part of this upgrading procedure.
The first thing you can do is increase its voltage, and the performance of the toy vehicle will improve.
Most power wheels have a 12V battery, so replacing their current battery with a 24V battery can improve the toy car's performance.
With a 24V battery, the power wheels can run faster, and your kid can play for an extended period before it runs out.
If buying a new battery isn't an option, you can try drill battery conversion to increase its power to 20V. If you have an old power drill in your workshop, then you can recycle it and give your kid's toy a power boost.
How to perform power wheels drill battery conversion
For this project, you will need the following parts:
Battery charger
A charged lithium tool battery
30 Amps inline fuse
Battery adapter
12-volt power wheels
Velcro
Tools
Screwdriver
Wire strippers
Soldering iron
Electrical tape
Wire crimper
Remove the stock battery of the power wheels
The battery can be under the seat, hood, or in the trunk for most power wheels. Once you have found it, you can remove it and unhook it from the wire connection.
Modify the drill and stock battery
Remove the two wires attached to the car's battery as you will require the connector plugs to finish this job. Attach the stock battery's connector plugs to the battery adapter.
Start by attaching the black wires and cover them with electrical tape. And for the positive ones, you have to connect them too, but make sure you put a 30 Amps inline fuse between the two wires.
The fuse will protect the motor by preventing a lot of power from getting to it, and when it happens, the inline fuse will break and stop the toy car.
Attach the drill battery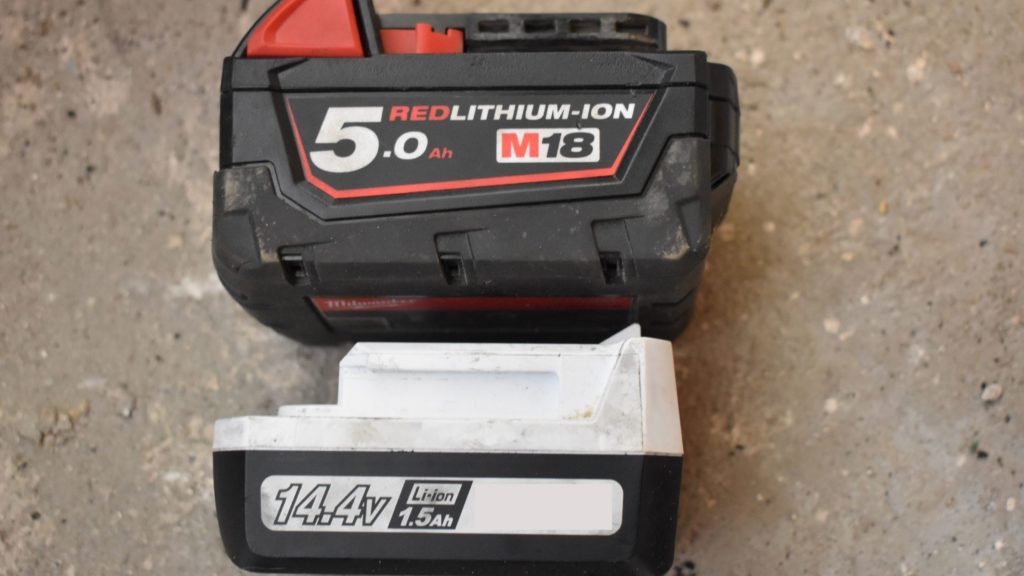 Attach the wires to the drill battery and then mount it inside the power wheels. Make sure you add an electrical-speed controller to help you manage the amount of power being sent to the wheels.
Test the toy vehicle
After inserting the battery, you can confirm if it's working by pressing the pedal and see how the wheels spin. You will notice the difference between the two batteries immediately.
The drill battery is also lighter, so it can increase the toy's speed even more than a 12V battery would.
Step 2: Electronic Speed Controller (ESC)
You can skip this step if you already added the ESC when replacing your old battery with a used drill battery. But if you purchased a new powerful battery, then you need to add an ESC. An ESC shows the battery how much power it should send to the wheels.
And as its name suggests, it is an off/on switch that controls the wheels and the battery. It is a knob that can be turned to adjust the power you will need the toy vehicle to use at any given time.
You can either purchase an ESC or build one using variable speed controller and other parts like the connectors, wires, and pedals from different power wheels.
A reliable ESC kit goes for over $150. And with the increased speed, you may have to improve the toy car's handling by improving its tires' traction.
Step 3: Custom fabrication
Basically, this step involves building metal structures by assembling, bending, and cutting different parts of this toy car.
This step can improve the overall speed of your kid's power wheels vehicle. Some parents modify these toys by replacing the gearbox with motorbike engines or direct-drive motors, which can prepare it for any obstacle on the road.
In fact, this upgrade can make it possible for the toy vehicle to run on a wide range of terrains, including rough roads.
It also turns it into a very fast toy, which isn't safe for young kids. so you will have to withhold the keys and hand it over to them when they grow older and can easily handle such a powerful toy car.
With such a powerful car, you will also have to increase traction on the toy's wheels.
Add traction to the wheels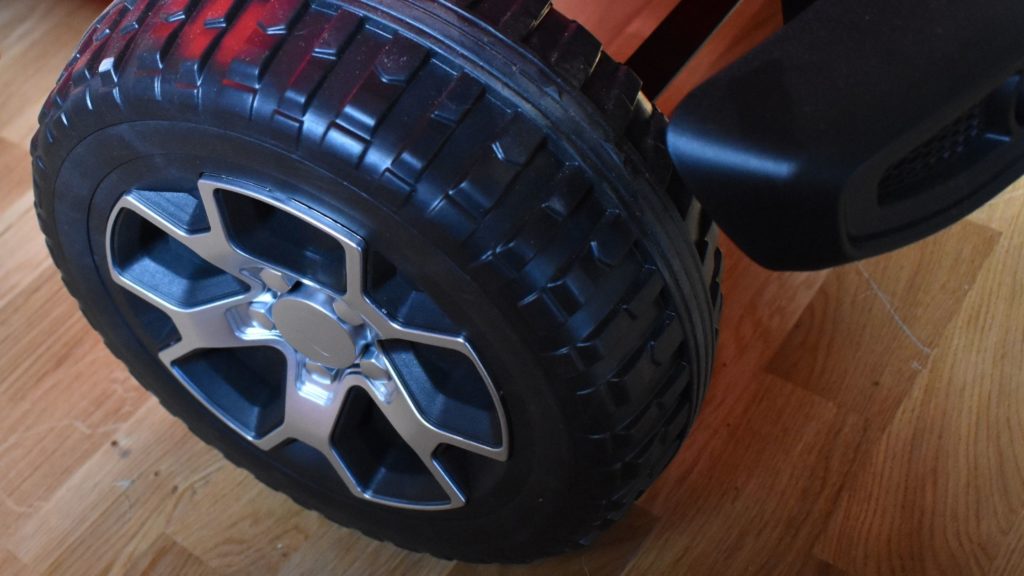 These toy vehicles can't move faster if their wheels have poor traction, so instead of wasting the battery's power by slipping on the road, you can try and add traction to its plastic wheels.
Luckily, there are numerous cheap hacks that you can do to improve the plastic tire's traction. Some of these hacks include applying some duct tape or adding a rubber coat on the toy's wheels.
Before applying the duct tape or rubber coat, you need to do the following:
Prepare the wheels by sanding them down to create adhesive surfaces. To add some roughness, you can sand them using fine sandpaper.
Clear all the crannies and nooks on the tires.
You can either turn the toy car upside down or remove the wheels and wash them separately.
Let them dry for a few minutes on a clean surface.
Remove all the remaining grime or oil using rubbing alcohol.
If you plan on adding traction using liquid rubber coating, you should prepare the work area by placing some old newspapers on the floor to take care of the spillage.
Apply a thin layer of liquid rubber coating on the tires or wrap them with duct tape. And you're good to go.
Step 4: Trick it out
Other than improving the performance of the power wheels, you should also try and upgrade its overall looks and make it more appealing to kids. You can decorate it the way you want or even add some funky or cool accessories.
Since you've already installed an ESC, you can easily wire some unique accessories like a virtual sound simulator or reverse buzzer.
You can also decorate the car with taillights, headlights, LED lights, and even neon lights.
Conclusion
The fact that your kid's power wheels vehicle has become slower or your kid needs a powerful one doesn't mean that you have to purchase a new one.
This basically means that you have to upgrade it. You can start by getting a powerful battery that will increase its speed and performance.
If getting a new battery isn't an option, then you can replace its current battery with an old power drill's lithium battery.
Add an ESC to help control the amount of power being sent to the wheels and then increase traction on its wheels, and you're good to go. You can also decorate the toy car and make it more appealing.