Buying Power Wheels for your kid can be a tough decision. 
Besides choosing from the hundreds of models in the market, you also have to consider the kid's age. With every year that passes, kids outgrow their toys and probably need new ones. 
Toy manufacturers have, however, adopted the trend of creating Power Wheels according to age, making the process a little hassle-free. 
Most Power Wheels manufacturers make their products for kids aged between 12 months to 10 years old, with the significant differentiating factor being the size and technicality in operation. 
In this article, we'll be looking into what Power Wheels are best suited to what age.
Can a 1YO Ride Power Wheel?
Yes, a 1yr old toddler can ride Power Wheels. 
Even when kids this age might just be mastering the art of walking, they usually develop an interest in Power Wheels. Again, not every kid within this range is in the same stage in motor development. 
Therefore you'll find multiple Power Wheels to cater to the different requirements in each developmental stage. However, most parents don't welcome the idea of 1yo kid riding Power Wheels, and that's why they have minor numbers among all other age categories.
Toy cars for 1yo kids are tiny, low to the ground, and safe. They lack those sophisticated control options you see in Power Wheels for bigger kids as 1yo kids can't master much at this age. 
Therefore, most toys for this age help the kid improve balance, coordination, and spatial awareness. It is also said that kids who started riding toys at this age grasp the art quicker in the future than ones that didn't. 
Moreover, these toys can be thought of as a chance to let the kids exercise and explore outdoors.
Can a 2YO Ride Power Wheels?
Yes, a 2yo can also ride Power Wheels. The best item you can gift your kid with on their second birthday is probably a toy car. 
At the age of two, most children have mastered the art of walking around and balance. Moreover, the kid has a more-developed brain, ready to grasp a thing or two on the controls. 
Again, unlike in 1yo kids, you don't have to constantly monitor a 2yo, maybe in fear of them toppling over and hurting a knee. At this age, kids always want independence with their toys and can pretty much handle stuff themselves.
Best Power Wheels for Age Groups
As stated before, different age groups, starting from 1yo to 10yo, have different Power Wheels. 
However, before we look into which Power Wheels are appropriate for given age groups, there are a few things to consider before buying Power Wheels.
What Should You Know Before Buying Power Wheels?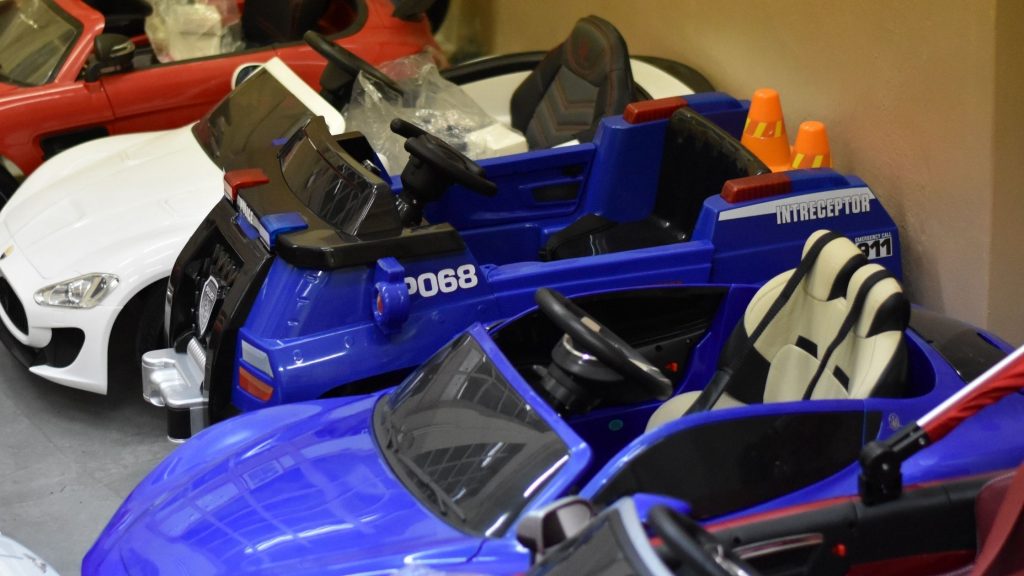 Age/Weight Limit
Most Power Wheels are grouped according to age. A ten-year-old kid cannot ride a one-year-old's Power Wheels. 
Age also goes hand in hand with weight. Older kids are heavier than younger ones. 
Don't let your kid break their Power Wheels because they have exceeded their weight limit.
Seat Belts
It is crucial that Power Wheels, especially the high-speed ones, have safety belts installed. 
That is a measure aimed at keeping your kid safe in case of an accident. You don't always want to feel unsafe when your kid is driving on uneven terrain. 
Make sure the Power Wheels have a safety belt to keep your kid restrained to their seat. 
Speed Options
Do you prefer single-speed or multi-speed Power Wheels? 
Speed options are a personal preference matter. However, it is always essential to keep the speed low, especially with younger kids. 
The older ones can ride at higher speeds, but carefully and observing all safety measures. 
Parental Override Controls
You might want to have access to remote control over your kid's Power Wheels. 
Some kids might be rowdy or want to ride at terribly high speeds in rough terrain. 
Prevention is better than cure! 
As a parent, you can make the right decision for them and maybe turn off or slow down the car before something happens.
Suspension and Shock Absorbers
If you're buying your kid Power Wheels for off-road use, then you need to check its suspension and braking system. 
Make sure everything is intact for the comfort and safety of your kid when riding in rough terrain. 
Light Effects and Sound
Kids are huge lovers of flashing lights and siren sounds. Check out for those. 
If you find Power Wheels with both, then your kid will be a lucky one.
Music
Would you like your child's car to have some music? Then you can find vehicles with a sound system, with either preloaded music or a functional AM/FM Radio. 
The choice is yours.
Other Features
There's no limit to what you find in the Power Wheels shop. You'll find cars with all sorts of fancy added features. 
Having looked at all that, we'll now group the power wheels according to ages and see what we have.
Best 1-Year Old Power Wheels
Little Tikes Push and Ride Racer
This push and ride racer toy car from Little Tikes can be used as pushing and riding toy at the same time. 
Your kid will find it easy to saddle the seat and move by pushing around with their feet. The size of the power wheel is considerately tiny to enable the kid to walk behind it comfortably. 
Again, the minimal ground clearance of this Push and Ride racer prevents the kid from riding on rough terrain, which might be harmful to them.
The Power Wheels work perfectly inboth indoor and outdoor conditions, and you can now closely monitor your kid's movement. 
There's an extra seat on the back if the kid wants to bring around their favorite stuffed animal. 
Why the Little Tikes Push and Ride Racer?
Kid-powered – your kid has total control over the Power Wheels
Promotes motor awareness and development
It's very stable
It has a low seat that helps the kid get on and off quickly
---
Best 2YO-3YO Power Wheels
Power Wheels Batman Lil' Quad
Just as the name suggests, those Power Wheels are built based on the legendary Batman figure. 
If your kid loves Batman, then this might be the best present they'll be getting from you. The 4-wheeler is loaded with toddler-friendly features and is low-built to facilitate easy boarding.
The Batman Lil' Quad only goes forward, at a speed of 2 mph, and is run by pushing a button placed on the handlebars. 
The tires are wide and well-grooved to ease movement along the grass and paved surfaces. 
Moreover, the car comes with a compartment that allows the kid to carry along their necessary gear. 
Why the Power Wheels Batman Lil' Quad?
Good overall value
Easy to assemble
It has a 6V rechargeable battery and 2-mph speed
Easy push-button operation
---
Costzon 12V Maserati Gbili Car
Well, here's a sports car for kids. 
If you'd love to see your 3yo kid spin around at high speeds, then this might be the best choice of sports car money can offer. 
The Power Wheels come with lockable doors, headlights, a seatbelt, and a real foot accelerator. The idea of adding an actual accelerator gives your kid the feeling of driving a real car. 
When it comes to high speeds and kids, safety is critical. This car comes with an adjustable seat belt to keep the kid safe. 
In addition, there's a remote control system that gives the parent access to the vehicle. 
The car moves forward and reverses and operates under three-speed options: low, medium, and high. 
The tires are well shredded and provide a reasonable amount of grip when your kid is cruising around. 
Did we talk about the car's leather seat? 
Well, you get a decent one and ample space on the interior, where your kid can carry along their favorite stuff. 
One problem with the car is that it might be pricey for some people.
Why the Costzon 12V Maserati Gbili Car?
Comfortable
Has three-speed options
Secure for your kid, with the inclusion of a seatbelt and remote control
Stable
---
Best 4YO-8YO Power Wheels
Kids at this age usually grow in size and need relatively larger Power Wheels to accommodate their weight. 
Moreover, they are stable and can handle higher speeds as compared to smaller kids. 
Here are some of the best choices in the market.
Fisher-Price Dune Racer Power Wheels
Fisher-Price is a renowned manufacturer of Power Wheels. They have a diverse portfolio of products, up to and including battery-powered motorcycles and trucks. 
The Dune Racer is, however, the most popular of all.
The first look on this car is awe-inspiring, with the way the tires are shredded, the metal protection shines on the door space, and the overall built design. 
You should give credit to the tires, as they are some of the best in the game, and ensure your kid rides smoothly, even in grass or wet terrain. 
The car also comes with a steel frame that protects the kid and car if they hit an obstacle. 
The car has enough 'interior' space and legroom for two, so your kid can bring a sibling or friend along. 
The Dune Racer is powered by a 12V battery and can achieve speeds of 5mph. 
However, the speed can be set at 2.5mph for younger kids. 
Why the Dune Racer?
Safe and stable
Suitable for rough terrain
Spacious
---
Peg Parego John Deere Gator Xuv
Peg Parego has been a popular name in the Power Wheels industry since the 1960s. 
The Gator XUV is an absolute masterpiece power wheel, suitable for kids aged 4-8 years. 
The Power Wheels have two-speed limits, 5 mph, and 2.5 mph, with a high-speed lockout for younger kids. 
The car has a physical accelerator pedal and automatic brakes, giving the kid a real-life driving experience. Moreover, the vehicle also comes with reverse gear.
The car's weight capacity is 130 pounds, and it comes with an extra seat so that your kid can bring along a friend or sibling. 
There's also a dump bed at the back that the kids will enjoy having fun with. The seats are adjustable in this car, making it a perfect choice for growing kids since you can add leg space by moving the seat back. 
One downside of the Gator XUV is that its traction on uphill rides is not very reliable. However, that problem can be solved by adding rubber tires to the wheels.
Why the Peg Parego John Deere Gator Xuv
Adjustable seat
Powerful battery
Functional tailgate and dump bed
---
Rollplay Gmc Sierra Denali Ride-on
The GMC Sierra Denali is probably the best value-for-money Power Wheels deal you'll get in recent times. 
It offers a realistic driving experience with its opening doors, mp3 player, a windshield, tailgate, side-view mirrors, and a dashboard. 
Moreover, the car is equipped with LED headlights and engine and horn sounds (it requires two AA batteries for these two sound features.)
Your kid also gets inbuilt speakers to play their favorite music. 
The ride operates on a 12V motor that lasts for a sufficiently long time. 
Moreover, it has a convenient external charging system and a battery life indicator that lets you know when it's about to die. 
The maximum speed on the GMC Sierra Denali is 5 mph but can be limited to 2.5mph for younger kids. 
The tires are laced with rubber to make traction on wet/slippery surfaces hassle-free. 
There's an extra seat on the car, but leg space is a little bit limited here.
Why the Rollplay Gmc Sierra Denali Ride-On?
Long-lasting battery
It runs well on all terrains
Realistic and fun to drive
---
Best 9YO-10YO Power Wheels
Kids at this age are big enough to handle more sophisticated controls and higher speeds. 
Here are two of the best Power Wheels for kids between the age of nine and ten. 
Ride-on Jeep
Meet Amazon's Bestseller on the best Overall kid's Electric cars, the Ride-On Jeep. 
The Power Wheels assume the physical outline of the real Jeep. We can begin looking at the downside of the car, and that would be it is too large to be used indoors. 
Everything else is good news. Let's dive into it.
The Ride On Jeep has an excellent build quality. A durable 12V rechargeable battery powers it. The tires are well treaded to facilitate traction in wet/grass terrain, and they also work to give the kid enough balance when riding on uneven terrain. 
The Power Wheels come with a three-speed level so that the kid can have complete control when riding. 
The Ride-On Jeep also comes with remote control, so you could use it with smaller kids without worrying. 
There's a music player on the dash. Let the kid play some music when cruising around. 
Why the Ride-on Jeep?
Excellent build quality
Remote control access
Three-speed limits
Has an active music player
---
Value Box ATV 4 Wheeler 12V Ride on Quad
The look of the ATV is something lots of kids would love to see. 
The overall design is aggressive in a good way, and I bet most ten-year-olds would want to lay their hands on one. 
The tires are big and well treaded to make it a perfect choice in rough terrain. The quad bike is run by a 350W 24V battery, meaning that we'll have some incredible 'horsepower' for your kid. 
The speed ranges from 5-10 mph, giving a thrill of a ride at top speed. 
The ATV Ride On Quad also has remote-control capabilities so that you, as a parent, can change the driving speed as the kid rides. The car takes a relatively small amount of time to charge, approximately 6-8 hours. 
Don't worry about the weight limit of this car; it handles around 160 pounds comfortably, and it is a single-seater. 
The main downside of the Power Wheels is the risk that comes when the kid is riding at high speeds and the 'open' design that is not safe for the kid in case of an accident.
Why the ATV 4 Wheeler 12V Ride on Quad
Strong battery
Plenty of space
Can handle great weights
3-speed control system
Good tires for all-terrain
---
How Old Is Too Old for Power Wheels?
Anything above ten years for kids starts becoming too old for Power Wheels. 
That is because they have grown bigger and passed the Power Wheels' preferred weight limits. 
You'll find that they may break some parts or lack leg space in some cars. 
But, if the kid is not big enough as they reach 10 or 11, then it is not bad for them to still rock a power wheel. 
Takeaway
Those are some of the best Power Wheels for kids aged 1-10 years. 
There are hundreds of other models in the market to choose from, but the sampled few are top-of-the-class. However, here's something you need to remember.
Once you get your kid Power Wheels, establish clear rules on using the car. Let the kid know when and where they should/shouldn't ride the car.
Teach them how to ride safely and stay safe when they're the passenger (in the case of 2-seaters).
Always supervise the kid when they are in the vehicle, and always consider a helmet. 
Knee and elbow pads are also helpful in case of any accidents. 
Now let the kid have fun!