LEGO is the most famous company globally producing toys that you can use to build characters, animals, buildings, and other shapes.
LEGO bricks are designed for a wide age range and are used by kids and adults equally.
What Is the Age Range for Lego?
The age range starts at 1.5+ years old, but there are many different types of LEGO sets designed especially to target each group range individually.
There were originally six age groups designed by LEGO, offering sets suitable for each group. 
The age range starting from 1.5+ offers sets with larger bricks and characters in bright colors, often depicting animals. Those sets are designed to encourage infants to develop their motor skills and imagination. The most popular sets for this age range are LEGO Duplo.
The next age range starts from 4+. Those LEGOs are not suitable for children younger than four years old. Most of the bricks and characters are smaller than ones for younger kids – the standard size for LEGO. Although still depicting cute animals in bright colors and easy to build, those LEGOS usually have more pieces and are more detailed. The most popular LEGO in this category would be LEGO Juniors.
The age group starting grom 6+ offers sets of bricks suitable for primary school-age children. Although some of the younger children could still use them under supervision, the sets contain smaller pieces and depict less cute characters and animals. LEGO Friends and City are designed for this age group.
The sets designed for 9+ are not suitable for infants at all. They contain a lot of finely detailed small pieces and require more patience to put them together. There are a lot of sets depicting characters and places from movies and games, i.e., Batman, Super Mario, IronMan, and Star Wars.
The second to last age range is designed for 13+. Those sets contain a lot of pieces, often over 1000, with finely detailed bricks and characters. They require more imagination, patience, and creativity. Sets in this age range are not suitable for infants and young children. LEGO Technic seems to be a very popular choice for this age group.
The last age range is 18+. Those are sets designed for adults and often contain over 5000 pieces. Those are usually considered to be collection sets and not used to be played with. Once put together, those sets usually are put on display. Sets in this age range are not suitable for children and most tweens.
What Age Is Good to Start Playing With Lego?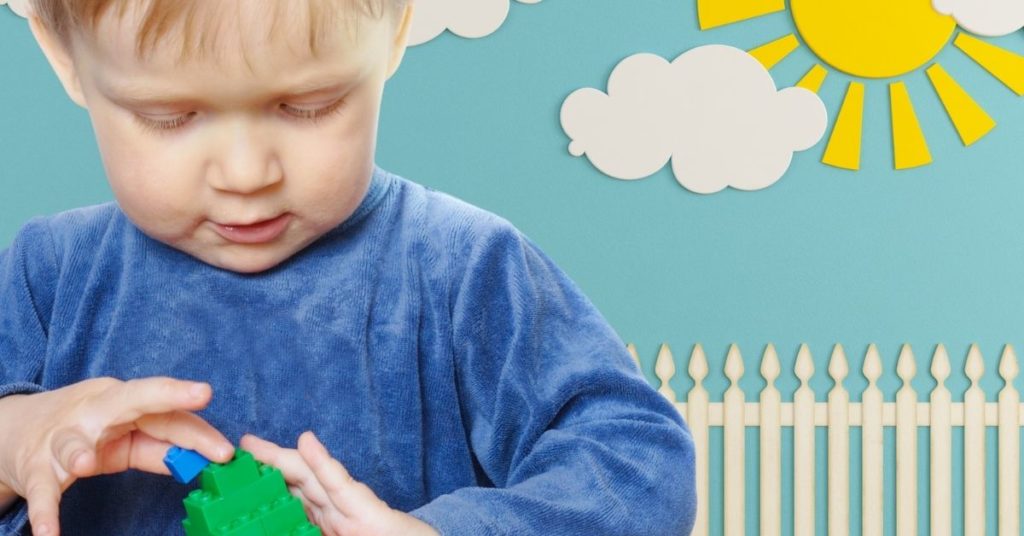 The earliest age for playing with LEGO recommended by the company is 18 months old (1.5 years).
Each child develops differently, with some infants maturing faster than others, but usually, 18 months old baby can walk a little or sit up without any help. That's when they can start playing with LEGO a little bit more independently. LEGO for this age is larger and more rounded up than the average LEGO block. It makes it easier to play with for the little ones when they are still developing their eye-hand coordination and motor skills.
For kids to play with regular LEGO sets, a good age is around 2.5 – 3 years old, but always under supervision. At this age, kids are getting more independent and require less help during their playtime.
Is Lego Safe for a 2 Year Old?
Although not every set made by the LEGO company is safe for infants, there are sets designed especially for this age group, and those are safe for a 2-year-old child.
As mentioned before, there are groups of toys made especially for each age range, and anything that doesn't come within the 1.5+ group shouldn't be available for your 2-year-old. 
The sets 1.5+ are made with infants in mind. Those are usually bigger than average LEGO bricks and figures and are not so easy to swallow but easier to grip. They usually have softer edges to prevent any cuts or scrapes during playtime. 
All kids go through a stage when everything that's in their hands may end up in their mouths. Playing with LEGO is safe for kids because all the elements are made out of ABS, a safe, non-toxic plastic that meets a lot of quality and safety requirements.
Final Thoughts
LEGO is great for all ages, starting from 18 months old. LEGO sets are great fun for small children, helping with imagination and motor skill development. The famous miniature bricks are good for growing up kids and teens.
LEGO bricks have been on the market for a long time, and they have been formed as a perfect toy for kids that's engaging, educating, and helping with motor skills development, imagination, and creativity.
Those are safe toys to play with as long as parents pay attention to the recommended age groups on each of the sets and supervise younger children while playing.