Before we dive into the answer to this question, let's take a minute to guess what we think is the biggest LEGO set of all time!
Some of the most common answers to this question are the LEGO Titanic and the LEGO Colosseum.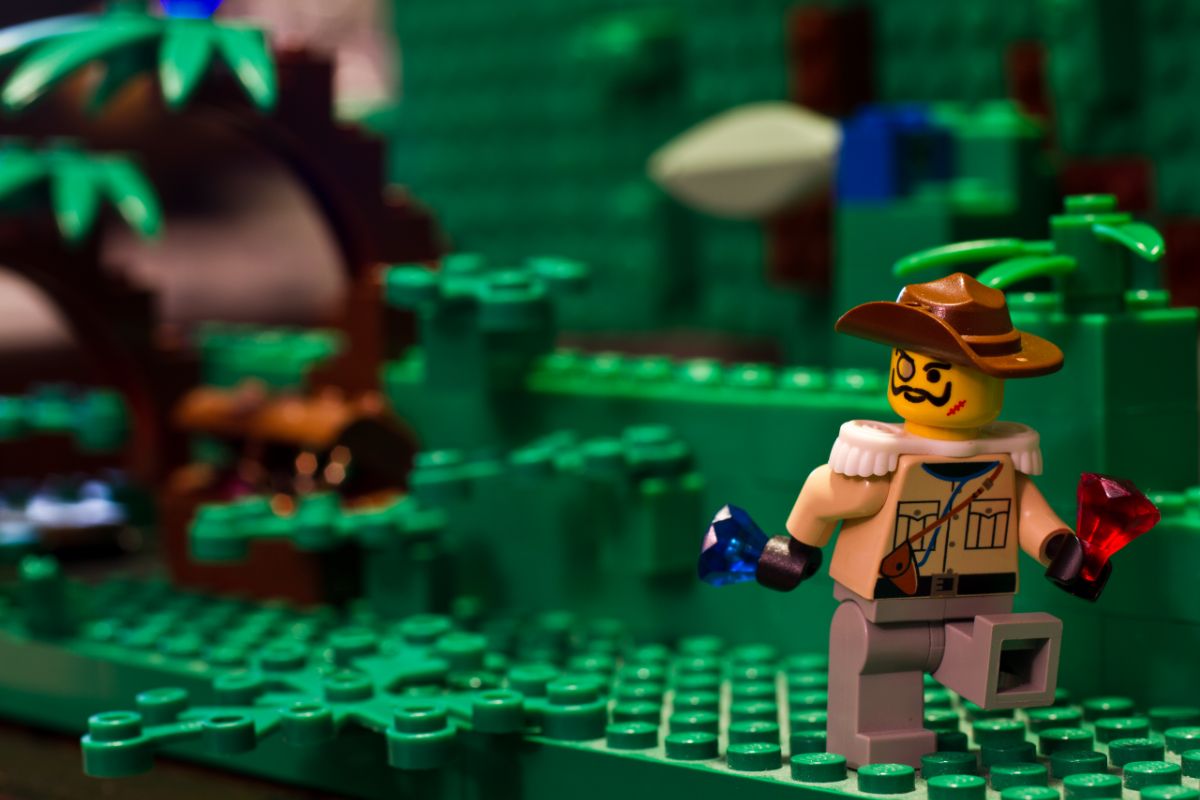 And yes, before you ask, these are up there with some of the biggest LEGO sets out there.
However, the biggest LEGO set in the world right now is actually the LEGO world map.
This article will tell you everything there is to know about this LEGO set, as well as some of the other great LEGO sets out there!
What Is The Biggest LEGO Set In The World?
The biggest LEGO set in the world is, fittingly, the LEGO Art World Map. This set has over 11,000 pieces.
It also doubles up as some impressive wall art as you are able to hang it on the wall if you choose to.
Not only is the World Map the biggest in the world, it is also a way to get creative.
You can choose the continent that you want to be at the center of the piece.
You can also get creative with where you use the colors in the ocean.
This is a great LEGO set as it can also be a way for you to track your travels.
You can use colored pins in order to track your travels or your future travels. You can also just have it up as a great piece of wall art.
This set, with 11,695 pieces, is 26 inches tall and 41 inches long.
It contains white pieces which allow you to create the continents and colorful pieces for the ocean.
LEGO Art World Map 31203 Building Toy; Meaningful, Collectible Wall Art for DIY and Map Enthusiasts; New 2021 (11,695 Pieces)
Build the world your way with this stunning LEGO Art World Map (31203) set, which gives you 1 of 3 unique combinations of a world map to build, plus a fully customizable, open-build experience
Clear your mind with this LEGO set, consisting of 11,695 pieces, including 40 canvas wall decor plates, a brick-built frame, 2 unique hanging elements and a tile tool for easier rebuilding
This kit immerses you in your passion for travel and DIY creativity while you relax and recharge. With the included Soundtrack, you can enjoy an audio world tour as you build
Build and display this unique, ocean depths-inspired world map that's full of lush, vibrant colors you can use for the background. To extend the joy, rebuild the map to reflect your own world view
This piece measures over 41 in. (104 cm) high and 25.5 in. (65 cm) wide, and offers a challenging activity for you or other map enthusiasts in your life who love DIY projects
What Is The Most Popular LEGO Set In The World?
Star Wars LEGO sets are some of the most popular sets across the world.
The most popular LEGO set available is the 75313 AT-AT, which is the second biggest Star Wars set.
It contains 6,785 pieces and it comes with 9 Minifigures. This set is always getting restocked but, every time, it sells out within a few hours.
It has many different great features, including posable legs and head, rotating cannons, and a hook that resembles the one in the battle of Hoth.
This LEGO Star Wars set is great for Star Wars fans and it is an immersive and challenging LEGO build.
It does come with clear instructions for you to give it a go.
This set requires a lot of concentration and creativity and will have to be entertained for hours!
LEGO Star Wars at-at 75313 Building Set for Adults (6785 Pieces)
Build and display the first-ever LEGO Star Wars Ultimate Collector Series version of an AT-AT (75313) from the Battle of Hoth in Star Wars: The Empire Strikes Back
Includes 9 LEGO Star Wars minifigures – General Veers, Luke Skywalker, Snowtrooper Commander, 4 Snowtroopers and 2 AT-AT Drivers – plus an information plaque to complete a stunning centerpiece
This epic, buildable model features posable legs and head, opening hatches, cannons with a realistic recoil action, rotating cannons, bomb-drop hatch, and a hook to attach to Luke Skywalker's line
The AT-AT has panels that lift-off to reveal the interior. The main body has space for up to 40 LEGO minifigures, 4 speeder bikes (2 included) and the included E-Web heavy repeating blaster
This 6,785-piece set offers a complex and rewarding build and makes the best birthday present or holiday gift for yourself, any Star Wars connoisseur and advanced LEGO builder
What Is The Second Biggest LEGO Set In The World?
The second biggest LEGO set in the world is the Titanic. This set is made up of 9090 pieces.
This model is a 1:200 scale model of the Titanic, and it is definitely a project!
This set, while it is the second biggest in terms of pieces, is the biggest in terms of size, measuring 53 inches in length.
This set is packed with amazing details, with a grand staircase, different cabins, a first-class dining room, lifeboats and a boiler room.
If you're a history lover, you'll absolutely love this one! It has all of the great historical features of the ship.
You can catch the piston engines turning inside your ship and build the swimming pool.
The Lego 10294 Titanic Set is out of stock, but you can check out this Titanic set by Pamvava:
Titanic Model Building Block Set-Mini Bricks - 4404 Pieces Toys, Titanic Ship Blocks Kit Gifts for Adults and Kids
【Titanic Ship Model for Adults and kids】The Titanic building block set is made up of 4404 pieces mini bricks.The model measures over 25.2in. (64 cm) long,6.26 in. (15.9cm) high.The perfect set for adult and kids titanic fans and creative expert builders, definitely an impressive collection
【Easy to Build】The manual which is included in the package has clear instruction so that you can build the models without getting into trouble.Our exquisite printed instruction with clear and easy-to-follow building steps would be a useful help.For your convenience, we label the bags of building blocks with numbers according to assembly order
【Easy to Build】The manual which is included in the package has clear instruction so that you can build the models without getting into trouble.Our exquisite printed instruction with clear and easy-to-follow building steps would be a useful help.For your convenience, we label the bags of building blocks with numbers according to assembly order
【Perfect collection】This titanic ship building model not only is designed to play with, but also can be a collectible or decoration.This awesome Ultimate Collector Series building model will bring you a challenging building experience
【Perfect Gift】 Perfect Adults & kids gift for Birthdays, Holidays, Christmas, New Year's, Thanksgiving, Easter, and any other occasion.we believe this awesome model toy would impress and remind them of those wonderful movie scenarios
What Is The Third Biggest LEGO Set In The World?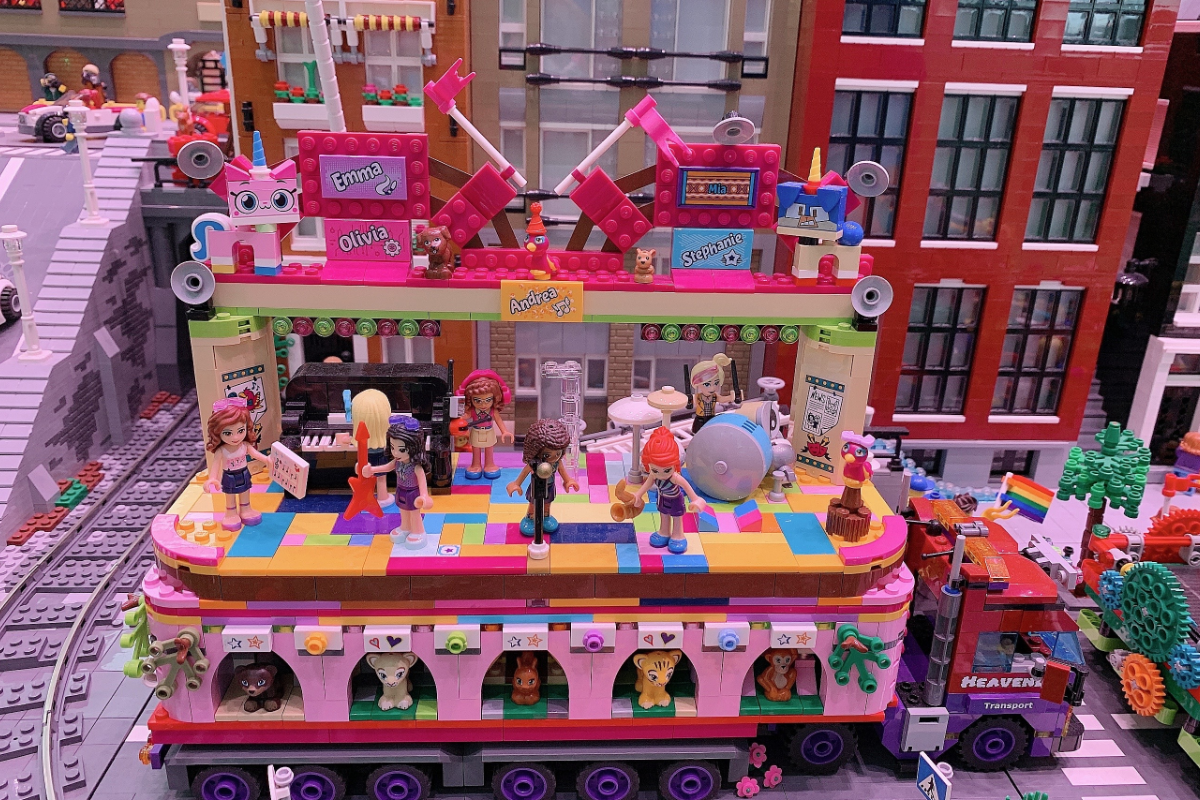 The next biggest LEGO set in the world is the Colosseum.
This is a very impressive model, packed with amazing detail of the most iconic historical landmark.
This set is made up of 9026 LEGO pieces and it captures all of the amazing details of the colosseum. It is very close in size to the Titanic set.
Other LEGO Set with more than 1000 pieces
Here are some other LEGO building sets, which are perfect for kids or adults who like to build and puzzle:
LEGO Architecture Landmark Collection Great Pyramid of Giza 21058 Building Set; Collectible Model for Adults (1,476 Pieces), 18.9 x 14.88 x 4.41 inches
A time-travelling building project for adults – This LEGO Architecture model (21058) lets you experience how the Great Pyramid of Giza and its surrounding area might have looked in ancient times
Cross-section model – Lift off the outer shell to reveal the stone-moving system that may have been used during construction. View from the back to see the King's and Queen's Chambers and main tunnels
Detailed landscape – A section of the Nile river with 2 LEGO brick versions of feluccas (ancient boats), 2 small pyramids, 2 mortuary temples, Sphinx statues, a workers' village and an obelisk
Gift idea – Treat yourself or give this building set to a friend or family member who has visited or dreams of visiting the Great Pyramid or is simply a lover of architecture, history and travel
Build, display and connect – Measuring over 8 in. (20 cm) high, 13.5 in. (35cm) wide and 12.5 in. (32 cm) deep, this model can be connected to a second model (sold separately) to complete the pyramid
Sale
LEGO Architecture Taj Mahal 21056 Building Set for Adults (2022 Pieces)
Whether you've been to or dream of visiting India and the Taj Mahal, or you just love travel and architecture, this building set is for you It also makes a very special gift for creative friends
This collectible, 2,022-piece, construction set is all about the pleasure of immersing yourself in a complex build that leaves you feeling relaxed, refreshed and with a real sense of achievement
Measuring 7.5 in. (20 cm) high, 9 in (23 cm) wide and 9 in. (23 cm) deep, this buildable architectural model makes an impressive display piece for your home or office
LEGO components meet rigorous industry standards to ensure that they connect securely and strongly
LEGO Ideas Vincent Van Gogh - The Starry Night 21333 Building Set for Adults (2316 Pieces)
3D LEGO brick art model (21333) of a Vincent van Gogh masterpiece – Recreate the timeless beauty of Van Gogh's 1889 painting, The Starry Night, with this LEGO Ideas build-and-display set for adults
Capture Van Gogh's colors and brushstrokes – Discover clever building techniques to mirror the swirling clouds and rolling hills of the original artwork
Adjustable display arm for the Vincent Van Gogh minifigure – Display the minifigure holding his paintbrush and palette in front of an easelwith a printed mini version of The Starry Night painting
Creative collaboration – The Museum of Modern Art (MoMA) is proud to join with the LEGO Group and the fan designer to share this project with art lovers around the world
Gift idea for adults – Treat yourself or give this 2,316-piece LEGO Ideas model as a birthday, holiday or surprise gift to someone who's into home decoration or classic paintings
Sale
LEGO Creator Expert Taj Mahal 10256 Building Kit and Architecture Model, Perfect Set for Older Kids and Adults (5923 Pieces)
Take your architectural admiration of the Taj Mahal to the next level! Build the LEGO replica of one of the seven wonders of the world with this building kit for kids and adults. Perfect assembly gift for older kids and adults whether they're 16 years old or 60!
Includes over 10,000 LEGO pieces. The building blocks to create one of the world's most famous landmarks. Adult model kits are more popular than ever. Fun, challenging, and just as impressive as the real thing.
Awaken the architect inside with this assembly toy. The Taj Mahal model features a wealth of rich details, including sweeping arches, ornate domes, soaring minarets and decorative finials.
The LEGO Taj Mahal expert building kit can be build together with all other original LEGO sets and LEGO bricks, including other collectible building kits.
Measures over 16" (43cm) high, 20" (51cm) wide and 20" (51cm) deep
LEGO Star Wars Luke Skywalker's Landspeeder 75341 Collectible Building Display Set for Adult Fans of Star Wars (1,890 Pieces)
Discover the power of your creative Force – Build and display the first-ever LEGO Star Wars Ultimate Collector Series version of Luke Skywalker's Landspeeder (75341) from Star Wars: A New Hope
2 LEGO minifigures of iconic Star Wars characters – Luke Skywalker with a lightsaber and electro binoculars and C-3PO, plus a plaque displaying X-34 Landspeeder technical data
Recreate authentic details – Use clever building techniques to build instantly recognizable features, from the cockpit windshield to the turbine engine with its cover missing and inner details exposed
Display stand – Place the Landspeeder on the stand for the hover effect
Gift idea – Treat yourself or give this 1,890-piece set as a birthday present or holiday gift to another Star Wars fan, advanced LEGO builder or collector of LEGO Star Wars UCS sets
Frequently Asked Questions
Why Is LEGO So Popular?
There are many reasons why LEGO is so popular for both adults and children. These include:
Versatile
LEGO is very versatile. It is great for all ages and genders, and it encourages creativity and the use of your imagination.
You can choose as challenging or simple LEGO designs as you like, and lots of different ages are able to play together on the same project.
Promotes Well
LEGO promotes their brand very well, and their partnership with other major brands is one of the reasons that it is so popular.
You can play with popular characters such as Harry Potter, Marvel, Super Mario, Batman and Jack Sparrow.
The partnerships with films, books and games is a great way to keep people interested in playing with LEGOs.
Adaptive
LEGO promotes lots of different types of personalities and skills. It allows the person playing it to flourish and explore their own interests and creativity.
There are lots of different sets of LEGO for fans of lots of different things, and you can choose how complicated you want them to be.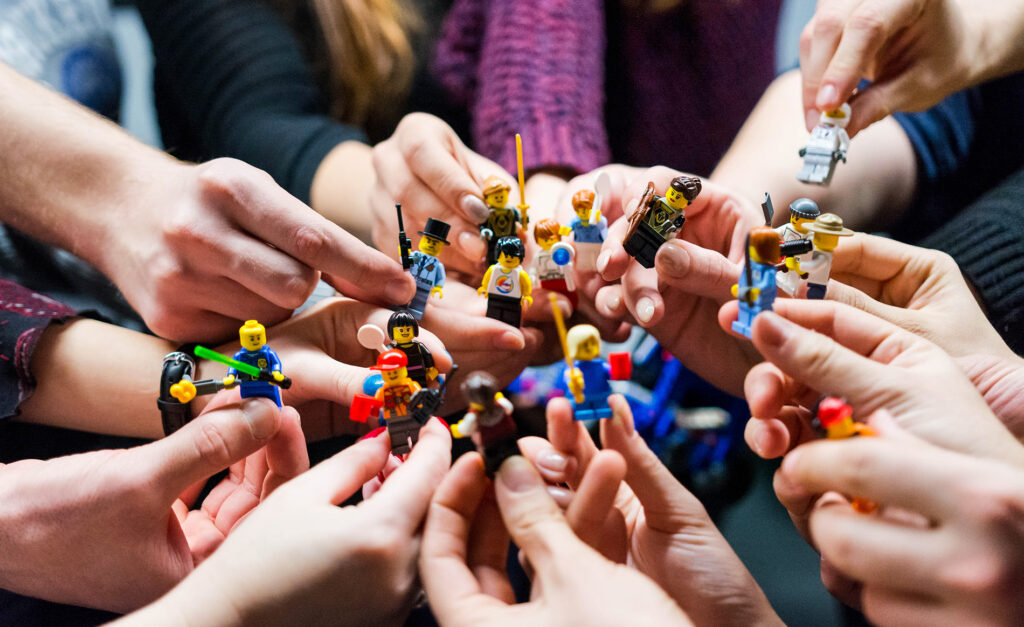 Why Is LEGO So Valuable?
LEGO is worth a lot of money because it is so much fun to play with. LEGO sets become very valuable when they retire.
This is because they stop creating any more of that set, making the ones that are in circulation much more difficult to find.
They tend to increase in value as the LEGO pieces become harder to find.
When Did LEGO Get So Popular?
LEGO became popular at the start of the 21st century. This was more than 70 years after the toys were introduced.
LEGO has been popular ever since, for both adults and children.
It is a great, creative toy and it allows you to be creative and build some of the things that you're interested in.
Final Thoughts
The biggest LEGO set in the world, the world map, was released in 2021 and it is made up of over 11000 pieces.
It is a great set to have as you can mount it on your wall as an art piece as well as release your creativity by building it.