In this article, we will discuss the importance of the weight capacity of Power Wheels toys, including an overview of weight capacities available, the common issues for exceeding the weight capacity, and ways to avoid these common problems. 
We will also compare a selection of models with weight capacity listed for easy reference. Power Wheels by fisher price are a range of ride-on vehicles such as cars, trucks, and ATVs with a recommended age of 3-7 on most models. 
How Many Kids Will Want to Ride the Power Wheels Vehicle?
There are hop-on-the-back style or hop-in-the-truck style Power Wheels. For example, the Power Wheels Jurassic World Dino Racer ATC is a solo rider model with a maximum weight capacity of 65lbs. 
The Power Wheels Jeep range, which includes Barbie, Frozen, Jurassic park themes, and more, allows two children to ride side by side with a combined weight of 130lbs.  
Should I purchase a single or double rider Power Wheels Vehicle? 
As far as weight capacity goes, there isn't really any difference in rider weight per rider seat; however, purchasing the dual rider vehicles makes a lot more sense if you have an older or heavier child. 
This means the vehicle will last longer for your child as they can continue riding until they are up to 130lb, as long as they still fit in the car. 
What Are Power Wheels Weight Limits Based On?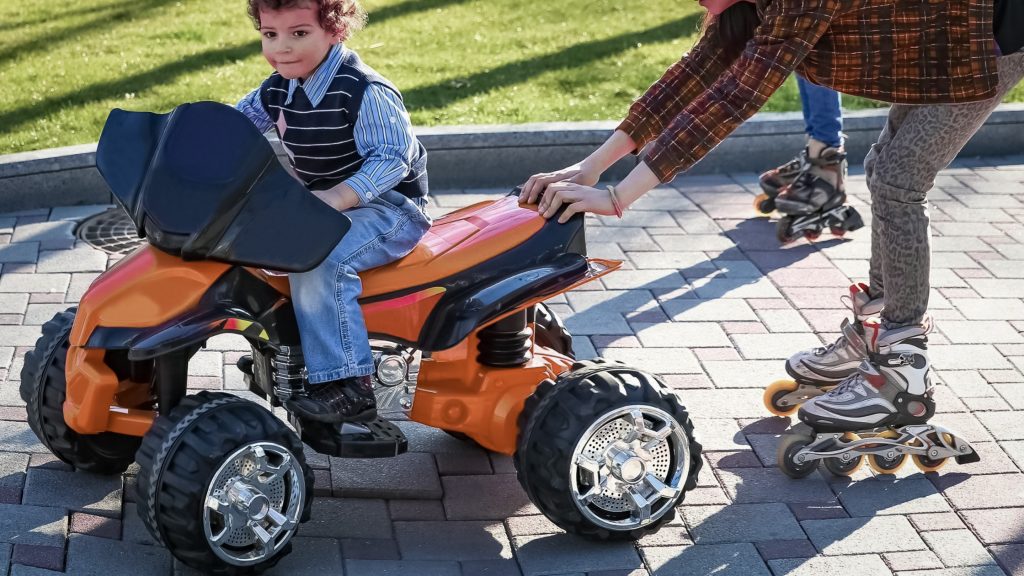 There are a variety of ride-on cars which hold either one or two children, up to 130lb. The weight also includes any cargo, such as additional toys, water bottles, or extra children, as well as anything being towed by the vehicle. 
You may have heard examples of adults or older children using the Power Wheels vehicles with no issues. However, underlining damage and unnecessary stress on your child's toy could shorten the vehicle's life span, so it is important to stick to the guidelines. 
Common Issues From Exceeding the Weight Limit of Power Wheels
Many issues can arise from going over the car's recommended weight limit. Some of the issues I outline below. However, these are not all the issues, just the most common ones.
Power Wheels Toy Won't Run or Stopped Suddenly While Driving 
A common issue when a Power Wheels toy is overloaded is to trip the thermal fuse, which can cause the toy to stop running either suddenly or just not run at all. 
According to the user manual, the quick fix is to remove your foot from the pedal and wait 25 seconds before operating the toy again; the fuse then automatically resets itself. 
And of course, making sure you don't allow overloading of the vehicle will allow the kids can have a smooth ride. 
There are, of course, other reasons that the Power Wheels toy may have stopped working, and you should check your user manual if you don't believe overloading was the issue. 
Power Wheels Toy Is Running Slower Than Usual
As a safety feature, most vehicles have some pre-set speed limits in place to run on low speed (and you can override this if necessary). 
However, notice that the vehicle is suddenly slower or slowing down for no reason, while it may be the battery. It could also be that the vehicle is overloaded, and the vehicle is struggling to perform. 
It might be time for only one of your kids to ride at a time or maybe time for a second purchase, so they have one each.
Can overloading Power Wheels damage the motor? 
Short story, yes, overloading anything that has a motor can cause damage to motors and gears. To prolong the life of your Power Wheels vehicle, it is important to remain within the weight limits.
How to Avoid Weight Issues With Power Wheels
Always supervise your children, and while you love and trust your children, sometimes children can just make incorrect decisions. Make sure the kids are following the rules, two people maximum in a two-passenger vehicle and one person maximum in a one-person vehicle. 
If you are worried about the kids using the vehicle unsupervised, then a quick tip is to disconnect the motor harness from the battery when stored or not in use. 
Power Wheels Weight Limit Chart

Where Do I Find Out the Weight Limit of a Power Wheels Model
If we've not listed the model you've been looking at above, then these are some tips on finding the weight capacity of the vehicle you are thinking of purchasing. Plus, it's always good to check at the point of purchase in case of any changes. 
If you purchase from a major retailer, they will likely have the weight listed on their website. Major retailers like Walmart and Amazon list the weight capacity in their specifications section of the product listing. They may also include a link to the official user manual.  
The second resource that can be useful is the manufacturer's user manual. A tip is to google the model name along with type "User Manual" into the search. This should bring up the PDF user manual from the manufacturer. 
It's a long document, so if you don't feel like reading the entire thing, do a search (usually ctrl F – find) and type in "Weight" and keep scrolling through until the relevant information comes up.
Conclusion 
Power Wheels can be a lot of fun, and it's important to make the right decision on model and style for you and your family.
Sources: https://www.fisher-price.com/inst_sheets/w2602pr-0920.pdf