When thinking about the best gift for our kids, we think about power wheels. However, being a top brand whose name has become associated with all the ride-on toy cars, many people worry about their prices, which in most cases is relatively high compared to other brands.
The average cost of Power Wheels is $300-$500. Prices can get much higher than this but rarely you will find Power Wheels at a lower cost.
How Much Are Power Wheels?
Power wheels are a source of joy for our kids, and they encourage them to go outside and play with their pals. And with power wheels being a reputable brand, the price of each of their ride-on toy car is worth it. But compared to other brands, power wheels can be pretty costly.
Therefore, it is quite common for parents to wonder how much these toy cars cost, especially with how famous these toy cars are. Fortunately, with the many power wheels models available, it's possible to get an affordable, high-quality option for your kid.
The cost of power wheels varies with size, with the smaller ones for toddlers going for about $200. The huge ones that can fit two riders can cost you about $400. The price of other power wheels can go even higher depending on the numerous features they come with.
The price of these ride-on toy cars can also be determined by the battery size, with the ones with 12-volt batteries being more costly.
Off-roaders also tend to be more costly than the ones designed for driving on pavements. And that is because they have bigger wheels, shock absorbers and powerful batteries.
After all, more features result in a powerful engine and a higher price tag. A power wheels toy with a plastic frame is cheaper than a steel one, while rubber tires ideal for off-roaders is more expensive than plastic ones.
The good thing about power wheels is that even the affordable options are made using high-quality materials and have more features than the other cheaper brands.
Plus, the brand's experience in the ride-on toy car industry guarantees you that your child will never be in any danger while using a power wheel. This is the main reason why their products are more expensive than the other brands.
The fact that they are made using high-quality plastic means that power wheels are low maintenance. In fact, the main maintenance that you may have to take care of is a loose wire or a blown-up fuse. 
But if getting a power wheel is impossible at the moment, you can purchase other brands for as low as $200.
There are a wide range of power wheels models that vary in price. The price of Some of the most common power wheel models are: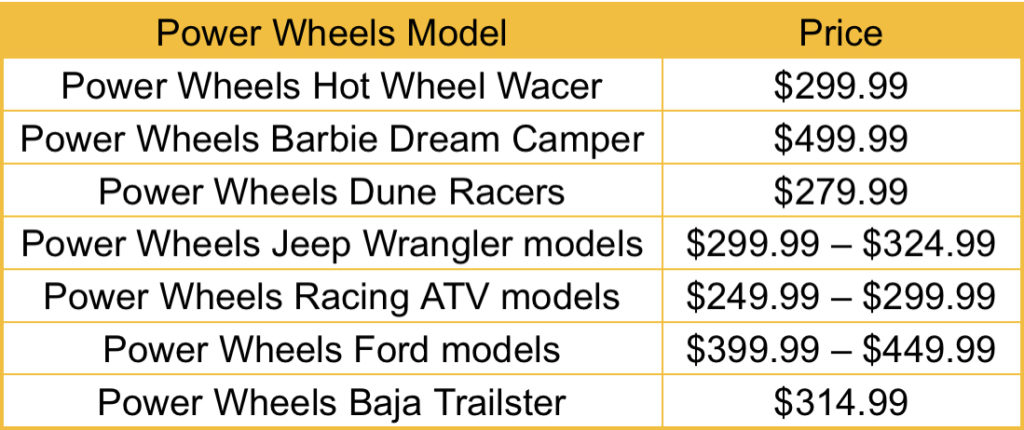 Is It Possible to Get a Ride-on Toy at a Lower Price?
Yes, as long as you know where to search, then it is possible to get a power wheel at a lower price. For example, stores making clearance sales can sell the remaining stock of power wheels for between $100 and $200 per toy vehicle.
You can also get an affordable power wheel in online stores offering huge discounts and display models. Shop owners tend to sell the display model at a lower price. Another less advisable option for getting cheaper power wheels is getting a used power wheel.
Can I Save Some Cash by Getting a Used Power Wheel?
Yes, used power wheels tend to be cheaper than new ones. But getting a second-hand toy car for your little one is never a great idea. And that is because you may not be able to assess the wear and tears the power wheels has before paying for it. And in the end, you will end up spending more on repairs and upgrades.
When dealing with used power wheels, the best option is getting them from trusted and reputable sources like close pals or family members. And to lower the budget on repairs, you can try and do some of the tasks yourself, like replacing the batteries and repainting them.
Luckily, there are lots of spare parts available for power wheels in the market. In fact, Fisher-price has made sure that all their power wheels models have spare, which you can get online or at the local toy store.
But the prices of the spares vary with model and type of spare needed. A replacement battery can go for as low as $70, while a simple connector goes for $10.
Conclusion
As one of the pioneers of the ride-on toy vehicle industry, Power Wheels produce high-quality toy cars, which tend to be quite costly.
The price of their bigger toys is about $400 while the small ones go for as low as $200. But considering the quality, design and features included in each package, they are worth the price. And in most cases, even the affordable power wheels last longer than the other electric toy cars in the market.
Hopefully, this article has been helpful. Check out our article on "12 Incredible Pokémon Toys Your Kids Will Love" for more gift options to put a smile on your little one's face.