The KIdzone Bumper Car is one of the most popular toddler toy cars for kids. What makes the Kidzone Bumper Car so attractive is the combination of its affordable price, its reliability, and its fun element.
Pros
The car has a parental speed control feature
Riding in these cars will teach kids about collaboration
Ideal for use in houses, but also suitable for use on sidewalks
Except for connecting in the charger, there is no assembly required
Keeps kids occupied for up to two hours
There are flashing lights and a Bluetooth music option
Cons
The pace may be too slow for some parents
For children with narrower bodies, the safety belt may be a little loose
The car may cause damage to the floor, especially if it is made of wood
Specifications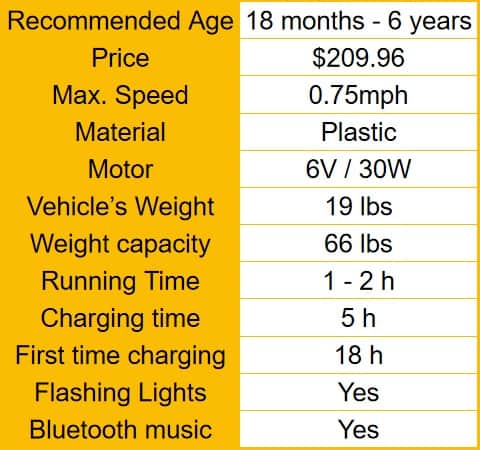 Design
Kidzone bumper cars are among the best riding toys for toddlers. They are available in variety of vibrant colors, including pink, blue, and green. The design is simple but appealing to kids. Back support is included to keep kids secure. Kid-zone bumper cars arrive fully assembled.  It's as simple as plugging in a battery for these cars to work. It is definitely among the best kids gifts you can get today.
Tires
The bumper car from Kidzone features anti-flat tires. Unless your child is significantly heavier than 66 pounds, the tires will not break. The small anti-flat tires are perfect for indoor use, allowing children to remain within sight of their parents.
However, several customers have reported that the bumper car performs admirably outside, particularly on sidewalks. We wouldn't recommend going on uneven paths because the tires aren't big enough and the car doesn't have any suspension.
This car provides a smooth and enjoyable trip almost anywhere in the house.
Battery
This electric ride comes with a rechargeable 6v battery. A charger is included in the box. This battery can run for up to 2 hours after 5 hours of charging.
Price
The $200 price tag for these stunning colorful bumper vehicles is an excellent investment for your children. There are not many ride-on cars that come with such a small price tag. The prices for toys for toddlers usually begin around $200 at the lower end but quickly climb. For example, Power Wheels Prices start around the $300 mark. As you can see this makes the price of the Kidzone Bumper Car quite attractive.
Weight 
The assembled toddler toy weighs 19 pounds, light enough to be carried by a parent with ease. After all, you don't want to have to rely on another person to help you lift it. However, because these cars are not extremely light, your youngsters will not be able to lift them. 
Because this car can only hold one rider, if you have two little children, you may want to purchase two. In fact, they'll have a lot of fun bumping into each other with these bumper cars. 
The recommended weight limit for this car is 66 pounds.
Motor
The motor power is 30W because it is a children's car. We think it'll be more than enough for a fun ride. Children may not be able to ride at high speeds, therefore 30W is sufficient! For many years, this car will provide a wonderful ride.
Charging Time
This bumper car's charging time is only 5 hours. A full 18-hour charge is required to use it for the first time.
The charging intervals come too soon, for that reason; this is a drawback many parents face.
Running Time
When we hear about Kidzone's usage time, we are truly amazed. Unlike other toddler toys on the market, the Kidzone bumper car can run for up to two hours! This means that your child will have nonstop entertainment.
Speed
The Kidzone Bumper Car has a top speed of 0.75 mph. This is good for small children, as fast speeds can frighten them. 0.75 mph is not very fast, yet it is plenty for an exciting ride.
Recommended Age
This walmart battery car can accommodate children as young as 18 months. The maximum age is six years old. Children older than that may not be able to fit in the seat. As a result, it is ideal for parents to follow the manufacturer's recommended age.
Safety
Toys for toddlers must have safety features. There's no way parents want to take any chances when it comes to buying such toys for their children. Kidzone bumper vehicle has a lot of features that guarantee your child's safety so you don't have to worry. 
The back support provides a place for kids to lean on and there is no wall in the front of the car. As a result, there is a seatbelt. The seat belt is the most crucial protective measure. 
Your child will remain safe and secure regardless of how turbulent the ride is. Another excellent feature that many parents seek is parental speed control. This way, the remote control can stay in the hands of the parents while their child rides. 
The Kidzone bumper car comes with an ASTM certificate, meaning that it has been thoroughly tested and has been pronounced safe in a range of circumstances worldwide.
Flashing Lights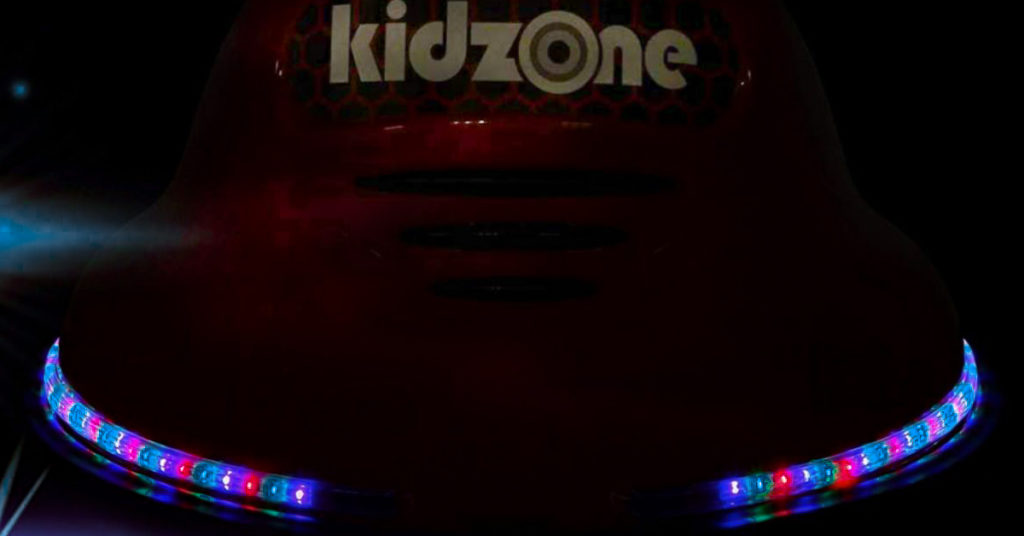 When your child sees the multicolored flashing lights, he or she will not want to wait to just get in the car. With a ring of lights surrounding the frame, this car looks stunning. When the lights are dimmed, the lights seem even better.
Bluetooth Music 
The Kidzone bumper car also has a Bluetooth music option, which is another unexpected feature. There's no better way to attract your child to this vehicle than to play their favorite tunes.
Here is what other parents have to say:
"With so many products in the kid's cars world to choose from, I liked how durable the product was. The lighting is lovely. and the color is quite bright, and the ride is very smooth. Easy to set up and fast delivery. Along with the seat belt, the remote is an excellent safety feature."
"As a father of a young daughter, I know that any parent would adore the thought of giving their child a ride-on bumper car (or babies). These electric cars will provide hours of enjoyment while keeping your child out of mischief and out of your hair!"
Conclusion
With everything it has to offer, the Kidzone bumper is among the best kids gifts. It has a sturdy frame, optimal speed, a long usage period, and safety features. This car, which costs $200, has features that ensure your child's safety as well as pleasure.
This walmart battery car is suitable for children aged 18 months and above and will provide your child with just the perfect amount of thrill. You could get more and have a car-bumping party for a huge group of kids.
If your kids love the characters in Cars Universe and pixar cars such as the Lighting McQueen, they are definitely going to love the features that come with this
ride-on car. So get them one today and see them have fun.