If you ask any boy or girl aged between 3 and 7 if they would want their own car, the answer would almost always be YES! Which kid does not love the idea of zipping around like mom or dad in their own set of wheels?
There is a myriad of different brands available on the market and sifting through them might be a tedious task. However, one brand which is repeatedly on the forefront is fisher-price and their Power Wheels.
Unfortunately, all the brands, including the Power Wheels don't come cheap.
Are they worth the money? ABSOLUTELY.
When we, as parents, weigh up the options to decide whether a toy is worthwhile purchasing for our children we keep the following criteria in mind:
Safety Features
As a parent, your child's safety will always be one of your top priorities in life. For this reason, you want to ensure that you are not the cause of any accident, injury, or harm to them.
Power Wheels do not have a safety certificate, but if you are looking for peace of mind while your child is out and about having fun, you can find ones that have the following safety features:
Fitted seat belts for both the driver and passenger, with adjustable straps.


Remote-controlled high-speed lockout for the parents to ensure their little daredevils stick to the speed limit.


Power-Lock® Brake system. This is really comforting for parents, especially when their younger children are driving. This feature enables the car to start braking as soon as the foot is no longer on the gas pedal.

This makes it a lot easier on the younger kids which don't have to master the brake and gas pedal simultaneously.


The option for you as parent to lock the higher speed gear until your little one has the ability and confidence to move faster.


The four-wheel suspension system very similar to the unit installed in normal cars. This ensures a smooth and stable ride for your child.
Please note that even with all these features it is highly recommended that Power Wheels are only used under adult supervision.
Pricing
Looking at the models and brands available on the market and comparing pricing is probably the top priority when considering buying anything – even if it is a children's toy.
Power Wheels cost from approximately $200 and up, depending on the brand, model and type you choose. 
I have compared some pricing on different brands. Below are the prices, as listed by online store:
Dodge Viper – $383.52
Mercedes G-Wagon – $289.99
Costzon Ride on Truck – $284.99
Toyota Tundra – $249.99
Power Wheels Dune Racer – $249.99
Considering the above list, you'll find that Power Wheels is a very affordable option on the electric vehicle market. If you take in account that this is a product which has been on the market for almost three decades this is quite the bargain to be had. 
Durability 
When you're planning to purchase a pricey toy for your child, you must ask yourself: How long will my child play or be entertained by this item?
Return on investment is always a goal to achieve and therefore the cost must equal the lifespan of the toy.
Power Wheels achieve this on a few levels.
Their ride-on cars are suitable for ages 3 – 7. This ensures that your child really reaps the benefit of owning the car and grow into it. Thereafter, it can be passed down to a younger sibling or sold second-hand.


Power Wheels are fitted with a 12V rechargeable battery. The batteries are solid and can last between 1 – 3 years before it needs replacing.

In order to achieve this, it is recommended to follow the care, charge and storage instructions as per the instruction manual.

New batteries can be purchased from fisher-price as well as from various toy stores and online platforms.


The frames of the cars are either a mixture of steel and plastic or only plastic. This might be a worry for some folks, but the good news is that should something go wrong on your car, there is a one-year limited warranty.

The battery carries a six-month warranty. Spare parts are also available from either fisher-price or online platforms. 
Child Development
Although Power Wheels might seem only like fun and games, they actually do play a big part in your child's development.
It promotes motor skills in your child by using the steering wheel, stepping the gas pedal and even something as simple as opening and closing the car door. 


When your child slows down for the hump in the road or realize they need to make a U-Turn at the end of the road it positively boosts their spatial development. Spatial intelligence or visual thinking will in turn help the child in future in science, engineering, and mathematics. 


Your child will learn to follow instructions and rules put into place by a superior.


Praise or encouragement by parents when driving the Power Wheels contributes to building and developing your child's self-confidence.
Fun Element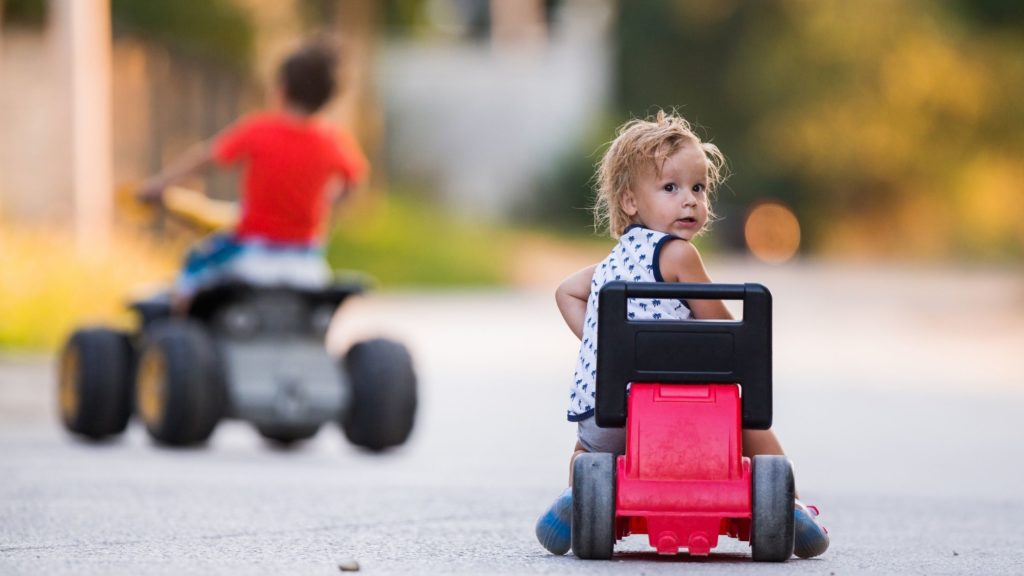 Now that we've touched on all the boring, grown-up deciders – let's look at what fun can be had with this toy by your kids. Power Wheels have various elements which contribute to making it such a fun option to purchase.
The Power Wheels range is extensive. There are Jeeps, Dune Racers, Campers, Fords, Hot Wheels and Racing ATVs to choose from.
There are not only various models available, but also a rainbow of colors to choose from. If your little one is obsessed by Barbie or Disney, why not spend a little extra and purchase one of the limited-edition items?
Even if you resort to buying one of the standard models, almost all of them are available in pink as well. The range also has some fun other colors like neon green, orange and purple.
This is a welcome change from the standard white, black, blue and red.
Power Wheels are equipped with two seats. This is really great for your child to take a friend along when going for a spin in the garden. Driving solo is never much fun.
Much better if you can take your bestie along for the trip.
Power Wheels come with opening and closing doors to enhance the real-life feel of the vehicle. Some models have working horns.
Children love hitting the hooter to honk at almost anything they pass. Some models have working LED lights. Some models play realistic engine noises which will transport your little one straight to "make-believe real life".
Some of the newer models are equipped with MP3 Players or AUX connections. The older models have either FM/AM Radio fitted or a radio with pre-selected channels available.
I am sure on the horizon soon you'd be able to connect your smartphone to the radio to stream music – let's hold thumbs. Everybody knows how kids love to turn the tuner on the car radio….
The three gears give your child the opportunity to shift gears like they see their adults do in their automatic cars. They can reverse to make U-Turns in the garden path or to get out of sticky situations.
Then there are two-speed options of which the higher speed option can be controlled by the parent.
Some models come with additional storage space. Children love taking their goodies along when role-playing. Handbags, cellphones, laptops can be stored in this area. When they're older this area comes in handy to pack snacks or toys.
Conclusion
Now, to revisit the original question: Are Power Wheels worth it?
The decision might be tough. Maybe you feel the same as when you decide to purchase a new car for the family. It is quite permanent, and it is quite pricey.
Take into consideration the track record of the manufacturer, and what their brand stands for?
Reliable, longevity, and quality.
The safety features the Power Wheels are equipped with will give you ease of mind while your child vrooms up and down the yard.
The durability will ensure that the car lasts and gives your child hours of entertainment for years to come. Your child will develop special spatial and motor skills while playing.
Power Wheels offer your child the "make believe real-life" scenario which will stimulate and develop their creativity. Your child's imagination will come to life!
Last, but definitely not least, we always return to the question of price. Is the bang worth your buck?
Power Wheels are very reasonably priced which will always ensure the answer is yes to this question.
Are Power Wheels worth it?
Positively yes.