"Hop on and ride along! Let's explore the different types of ride-on cars that would go along towards your destination. Don't forget to fasten your seat belt as we are crossing the road and collect knowledge during our exciting journey".
Push or Pull Ride-on Car
First on our list is a push or pull type of car. 
This one lets the kids enjoy a push and pull traditional style ride-on. Also, this can be used as a stroller by guardians or friends and a walker for toddlers. 
Little ones can also take turns on whoever will push or pull and drive, and that's a good way to promote friendship and trust while playing and having fun. 
Little kids enable their endless imagination to enter a magical world while riding on and go with their adventure. They can pretend to be someone who's amazing and great which eventually boosts their confidence and self-esteem. 
A push or pull ride-on is a kind of toy that makes learning easier since this type of ride-on comes in different built and designs. 
It may offer your kid help learning the alphabet, colors, building blocks, signaling horns, body parts, numbers, nursery rhymes, and many other exciting things.
Rocking Ride-on Car
The second stop is the rocking car. 
It is an open-type of ride-on and will surely give exciting pleasure for kids. This best suits small areas because it does not consume too much place. 
Also, this comes along with seat-belt and safety locks for the kids preventing the fall from the toy. 
This type of ride-on can be operated in two ways: manual or controlled. 
In a manual mode, kids are able to develop balance and coordination while the car is rocking. This indeed helps developing sturdy bones and stronger muscles.
In controlled or electric mode, guardians are able to manage the pace of rocking and the choices of music that is being played while rocking with its easy push-buttons or remote control. 
This kind of ride-on car undeniably makes a kid go crazy in a good way. 
Cozy Coupe Ride-on Car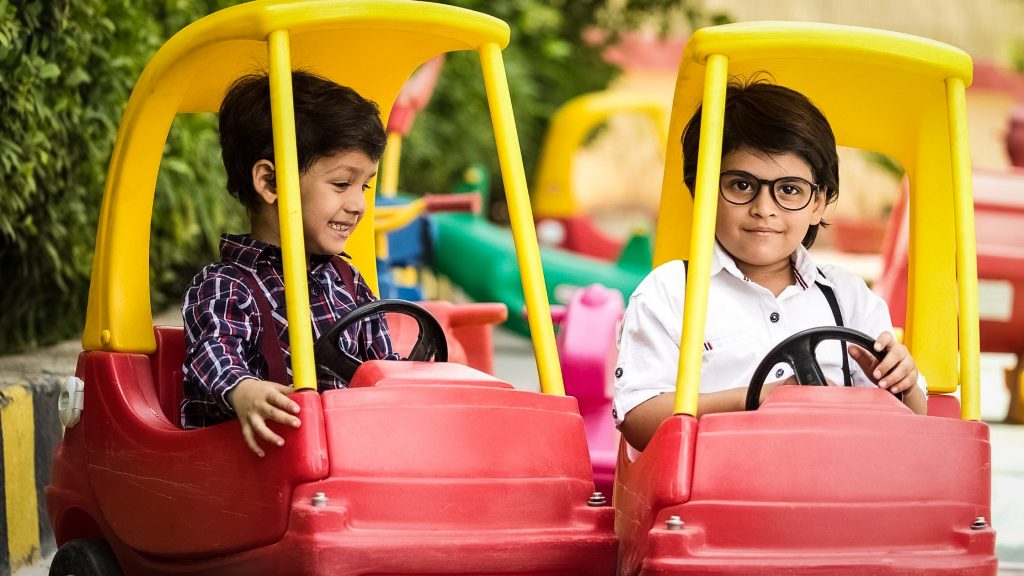 The third on the list is the Cozy Coupe Ride-on Car. This is an engine-powered little car, and its proportion is perfectly suited for small-built kids. 
A classic and most common design for this toy is a red color on the car's body and yellow for its roof. 
It also has a removable floorboard that protects the kids' feet, a handle at the back for guardians to push or pull, a cup holder in the rear for water, milk, or juice bottles, and the front wheels are moving at 360 degrees. 
It's similar to push or pull ride-on from the top of our list, but it was developed and upgraded to a different, closed design. The additional features made it more modern and exciting. 
Also, this has undeniable durable materials and definitely will make adults reminisce their childhood fun moments. 
Pedal Ride-on Car
The fourth stop on our list is a pedal-type of ride-on car.
It is a manual and sort of traditional type of ride-on, very similar to an old-school go-cart.
The kids would put more effort while pedaling and stay focus on steering. Chances of hitting or bumping objects are relatively high. A seatbelt is recommended.
But don't lose hope with this type of ride-on. Kids will still be able to have fun while learning and experience different stuff. They can develop coordination, goal-oriented characteristics, decision-making skills, and high endurance.
Kids also can adjust to what speed they want to travel with, but remind them to say out of the mud preferably.
Controlled/ Electric Ride-on Car
The fifth position on the list will be a remote-controlled type of ride-on. 
In this, kids will drive manually, or the guardians can use a wireless remote control device to ensure the kids' safety. 
Of course, the remote control is composed of backward, forward, and the selection panel for the speed controls, which can be chargeable. 
It is also accompanied by musical background. It may originally be installed in a device connected to a dashboard in the car or downloaded by guardians. 
Lights also are installed to make it a more exciting and thrilling type of ride-on. 
A storage compartment is also installed for storing kid's essentials. The building of this one comes in different forms: a police car, a fire truck, an ambulance, a Lamborghini, a BMW, a Mercedes, and many more. If you got extra money, you could request upgrades or customize one.
Wrap Up
You have a few types of Ride-on vehicles to choose from, considering the age and size of your kids.
Different types of ride-ons serve different purposes: exercise, increasing and improving kids' motor skills, developing independence, confidence, and interpersonal skills.